Tom's Alp Forward Eco Is The Shoe Of The Summer
This clean, versatile slip-on is one you won't take off until the warmer months have passed.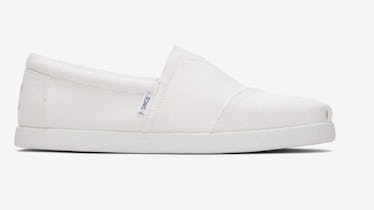 We may receive a portion of sales if you purchase a product through a link in this article.
Some months ago I declared my intention to take my sartorial cues this summer from Tom Selleck's Magnum PI circa 1980. Aloha shirts, shorter shorts, faded dungarees. The vibe envisioned was costal suave. I even threatened to dabble in Resort Wear. On the old TV show, Magnum wore these little white tennis sneakers. I thought I could use shoes to push the freeloading-do-gooder look even further with a pair of Alp Forward Eco by Tom's. They are a durable canvas slipper with a hard bohemian lean. The rest of the world calls these sorts of shoes 'espadrilles.' They're out in force this summer. Mr. Porter has a fantastic selection and I've been fixated on more expensive pairs by Loro Piana and CASTAÑER.
Some of the more expensive shoes on Mr. Porter seem pretty delicate, though. I really love the way the Tom's $59 Alp Forward Eco looks, but my real appreciation for the shoe resides in its versatility. I wear them for everything — from nights out with my buddies to walking the dog; from baseball tournaments to household chores like putting chemicals in the swimming pool; from carpooling to riding my bike to the beach. I replaced the original Tom's innersoles with a pair of cork soles and go sockless all of the time. When the shoes get dirty I throw them in the washing machine and then dry them in the sunlight. I can't recall ever liking a pair of shoes quite this much. Tom's Alp Forward Eco is Fatherly's shoe of the summer.