6 Low-Profile Sneakers To Rock This Spring
Q: What's low-profile, white, easy to slip on, and made from canvas? A: Your new, most essential pair of spring and summer shoes.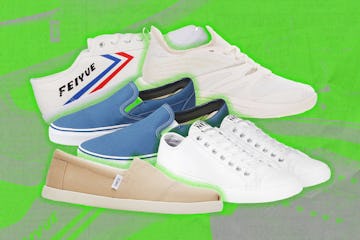 On March 6th, K-Swiss, maker of some of the world's coolest tennis shoes released a new two sneaker collaboration with prestige menswear brand, Corridor. The release includes a sleek performance shoe called the Speedtrac ($140) that you can purchase in black or a handsome off white hue. The star of the show, however, is Corridor's take on the K-Swiss's Classic '66 ($90). While the Speedtrac is suitable for sprinting and lunging and cutting and sweating, the Classic '66 is intended for less strenuous activities. Sure the '66 features K-Swiss's trade mark support straps, but every other detail of this installment of the '66 suggests that it's is more suited for apres-tennis lounging with a Pimm's Cup than sprinting for a well-placed drop shot. The upper is made from recycled cotton canvas. The sole is antiqued. The insole is cork so you can wear the shoe comfortably with no socks. I love these shoes.
The timing behind the release of this dreamy K-Swiss/Corridor collaboration is pretty fortuitous. Spring's around the corner and it's hard not to think about warm-weather wear. I'm not going to give it all away here, because I don't want you biting my style. But I feel comfortable enough sharing that my vibe this summer will borrow heavily from the early seasons of Tom Selleck's classic crime drama, Magnum PI. I'm talking about flashing some leg, and some chest hair. I'll be investing heavily in slim khaki trousers this spring. And shorter shorts this summer — I'm talking about five inch inseams. I'll also be leaning heavily into the no sock look. Taken together It's a confident style that is meant for strutting.
So, what do I wear on my feet? Sandals and flip-flops are out for committing twin sins of being impractical and revealing my ugly toes. High and mid-top sneakers (Jordan I's for instance) are out because nobody looks good in high tops and leisure ware. Clunky dad shoes aren't it, either. Running shoes are out, as well — sporty is not the look that I'm after. But that doesn't mean I'm ready to wear loafers in the heat, either. There is a sweet spot, though, and it is frequently low-profile, white, and made from canvas.
The name fits the thing. Nothing New's Men's Classic Low Top is the most basic sneaker on the market. Hiding in all of that simplicity (or perhaps because of it) is perhaps the most sustainable shoe on the market. It's made from 100% post-consumer recycled products. Each sneaker repurposes 5.6 plastic bottles and saves a ton of water. And they look great.
My personal favorite shoe on this list, the Tom's Alp Forward is lightweight, packable, and the perfect design for the rigors of hanging out poolside and Sunday Funday arm bending. These shoes are as basic as it gets—canvas with a rubber cup sole. But also eco-friendly—made from 50 percent recycled cotton. Tom's is that do-gooder company—everything they do is fair labor and a portion of proceeds go to funding access to mental health resources.
Feiyue, which first emerged as a shoe brand in 1920s China and landed in France in 2006, makes shoes that are crazy simple. How simple? SO simple that the 1920 is marketed as a martial arts shoe and is so wonderfully low tech that Feiyue actually cites the sneaker high-traction plimsoll as this sneaker's high tech element in its marketing literature. Never mind all that—these canvas shoes are durable, lightweight, and at $30 you won't feel so bad about beating them up.
A no brainer. It just doesn't get any better. Simple, durable, universally respected, versatile. The slip on comes in a million different colors.
Corridor's take on the K-Swiss's Classic '66 ($90 is the star of this collaboration.
K-Swiss' collaboration with prestige menswear brand, Corridor includes the lustworthy Speedtrac ($140) that you can purchase in black or a handsome off white hue. It's a sporty alternative to the more day-to-day offering, but one that's worthy of your closet too — beside one of the above pairs.
The Two Things You Need To Go Sockless
The key to the sockless look is 1) Realizing that those little ankle cut socks actually make things worse. They slide down your feet or peek up over the sides of your shoes. It just never works out. 2.) Finding a way to go sockless that doesn't make you absolutely miserable. Blisters are a surrmountable problem. Swamp foot is, too. For this, these the Men's Natural Cork Insole ($19) by Patara is the absorbent, natural cork insoles you need to make that not-so-fresh-foot-feeling history.