Pedro Pascal's New Balance 237 Sneakers Are The Dad Core Kicks We Need Right Now
Mando just proved that it's very hip to be square.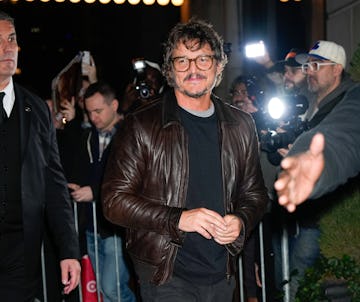 Gotham/GC Images/Getty Images
We may receive a portion of sales if you purchase a product through a link in this article.
Even the coolest celebrities rock dadcore shoes. On Saturday, October 21, Pedro Pascal made a surprise cameo on Saturday Night Live, dropping in to help host Bad Bunny with his hilarious opening monologue. While Pascal knows how to command attention, and he's really good at keeping it, during the SNL afterparty, even his celebrity was overshadowed by another surprise — his New Balance 237 sneakers.
The 237 sneakers were immediately identifiable thanks to the very visible large "N" logo, which is a retro golden yellow color in these kicks. The relaxed-style shoes are a mix of corduroy and suede in green and blue tones, and Pascal opted to wear them with loosely tied white laces for a very casual, cool look.
To complete his look, Pascal paired a black T-shirt with a deep brown leather jacket, black pants, and glasses while wearing his hair in a messy "I just woke up and rolled out of bed" look that he somehow makes cool.
Although he's not a dad himself, Pascal rocks a look that dads tend to favor — easy-to-style, neutral-colored fashion, with no-fuss grooming. And, of course, those well-loved dad sneakers, which take an everyday outfit and give it just the right pop of color.
New Balance sneakers have a long history of being considered the ultimate "dad shoe." Typically, the style that brings the most dad "feelings" are the New Balance 624s or the 550s, which tend to place function above fashion, but these updated New Balance sneakers do it all.
The 237 colorway in the product card above isn't the exact same colorway that Pedro Pascal is rocking — but that's sort of the point. There are dozens of different 237 colorways to consider at different price points — from neutral tones all-around to primary colors to shocking neon combinations. What dad colorway would you rock?
And, after all, why give up fashion? Just like the 624s and 550s, which are durable, breathable, and provide all the right cushion and support for your feet whether you're going for a run, mowing the lawn, or slaying a look, the 237s hit all those marks, too. The other thing that's great about all the styles of 237s is that they're affordable. The colorway that Pascal was rocking only cost $69.95. These are designer-looking sneakers but at affordable, down-to-earth prices.
After being on his feet for his cameo on SNL, Pascal swapping his shoes for the New Balance 237s was smart for fashion, function, and fathers who can easily copy his affordable, cool style with little effort.