Have Great Hair
The shampoos, conditioners, creams, and scrubs to keep your hair looking perfect.
by Fatherly Editors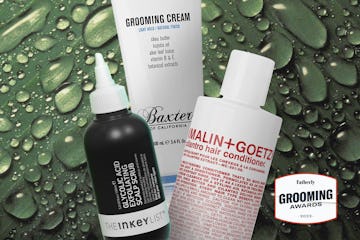 Good hair starts at the barber. If you don't know what to ask for or have a barber who is stuck in the '80s (the bigger, the better), then you're out of luck getting to great hair. But if you have good hair (or a good head; bald men are absolutely represented here), getting to great is all about maintenance.
This includes attacking flakes, scrubbing your scalp, dealing with grays (or purposefully not dealing with them), and keeping what hair you have clean, conditioned, and well-styled. Here are the tools to get your head from good to great.
Best Shampoo: Head & Shoulders Classic Clean Shampoo
What is one of the world's best-selling shampoos doing on a carefully curated list of the best men's grooming products? Shining through with a simple, effective formula that does it all. Head & Shoulders' claim to fame is thanks in part to zinc pyrithione, an anti-fungal that prevents and treats dandruff. But the rest of the formula is what give this shampoo lasting power. It is a sudsy, balanced shampoo that cleans the scalp and thoroughly washes the hair without leaving behind an oily residue. To top it off, the scent is neutral — not overly floral or chemical as you might expect from something you can find for less than $10 a bottle. This is why so many beauty and grooming experts swear by it, or secretly have it in their bathrooms. And so do we.
Best Conditioner: Malin+Goetz Cilantro Conditioner
Malin+Goetz has a well-deserved reputation for making top-shelf grooming products that come at a premium price point. Their Cilantro Conditioner is no different. For starters, the subtle herbaceous scent leaves your head smelling lovely. But there's also a potent combination of coriander oil, sunflower oil, and shea butter that protects and hydrates your hair and scalp. "I have thick, wavy hair. Things can go wrong with frizz very quickly," says Fatherly Contributing Editor Alex French. "I actually favor Malin+Goetz as a leave-in styling aid. It makes my hair soft and really brings order to the chaos."
Best Color Product/Gray Reducer: Just For Men Control GX Shampoo
Why dye your hair when you can slowly get rid of the grey? It's the question Just For Men knows you'll ask once you find out there's a shampoo that does just that. Truly, the grey-reducing Control GX Shampoo is the defining product in the category of grey hair treatment for men, and not just because it's pretty much the only product of its type. The shampoo gets everything right: You can use it as you need to, it has a subtle scent (think: a generically manly combination of cedar and old spice), and it's well-formulated, so you won't get dry or dyed scalp and you can follow up with any kind of conditioner. "If you'd rather slow the process down — or, really, slowly reverse the process — the gradual grey shampoo from Just For Men is your killer tool," says Tyghe Trimble, Fatherly Editor-in-Chief and a 41-year-old who likes to keep the salt and pepper head a bit more on the peppery side. Control GX is the tool that lets him do just that.
Best Styling Product: Baxter Grooming Cream
Baxter Grooming Cream is a jack-of-all-trades hair product. If you're into that intentionally messy look, you can apply it after showering for a light hold and shine-free finish. Or, you can work it into dry hair for increased control. Or, you can use it in tandem with gel or pomade. Or, you can use it to shape a longer beard. It really is that versatile. Meadowfoam and grape seed oil work to tame the frizz, while sunflower and jojoba seed oils provide moisture. "I like using it when my hair is on the shorter side," says French. "It provides some structure and hold, but it's not really a pomade and not really a gel. And leaving it in my hair between washes doesn't result in nasty buildup or stiffness."
Best Bald/Scalp Product: The Inkey List Glycolic Acid Exfoliating Scalp Scrub
It takes work to maintain a bald head. That's a lot of skin up there, and it needs to look good as you show it off to the world. Besides, even a head full of hair would be doomed without proper attention to scalp care. The Inkey List Glycolic Acid Exfoliating Scalp Scrub promotes a healthy scalp by gently sloughing away dead skin and product buildup (from all that sunscreen). It contains physical and chemical exfoliants — castor oil beads and 7% glycolic acid, respectively — to help keep the dome in optimal shape. "This stuff helps keep my dry scalp in shape, so I know it will do wonders for men with bald heads," says Fatherly Style Editor Saleam Singleton. "It's gentle enough to use once or twice a week, and you really can't beat the price."
Photographs by Xin Xin
Photo Director: Alex Pollack