Designer Daniel Patrick Owns His Effortless Cool
The clothing designer beloved by pro athletes shows us all how to set new standards in cool while raising the next generation.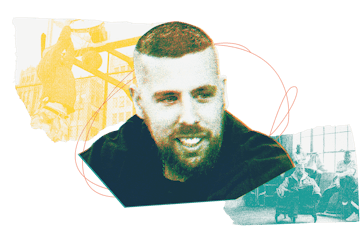 Ariela Basson/Fatherly; Daniel Patrick
Twelve years ago, Daniel Patrick left his native Sydney on a jet plane bound for Los Angeles, with two suitcases in hand and a thousand bucks in his bank account. He wasn't going on a vacation, though. Fueled by outsize dreams, Patrick was leaving New South Wales to make a life for himself in the States. First there was the matter of marrying a woman he'd been pursuing long-distance. Then he had the modest (wink, wink) aspiration of starting his own fashion brand.
Daniel possesses an easily detectable swagger. It's how he was raised. His father played professional rugby in Australia. Pro athletes possess big confidence and they don't do small dreams. And so Daniel was brought up with the belief "that I could be whatever I wanted to be." With that, his father showed him the work ethic and discipline to make it happen. "Whatever it was I wanted explore my dad supported me."
And for a long time, Daniel thought he might follow in his dad's footsteps and become a professional rugby player. He had an offer to play from a team in the South of France. But Daniel had a deep love for fashion, too. So he put down his rugby dreams and enrolled in fashion school for a year. "When you know what your purpose is in life the decision is not that difficult and it was very exciting to me. I was lucky enough that I had very supportive parents that went along with whatever 'crazy' dreams I would come up with. For me fashion had been a part of me my whole life and I'd had a lot of interest in clothing and appearance and spent a lot of time shopping and all my money went to clothes really so it just made sense to me. In hindsight I think the decision paid off," Daniel says. "Who knows what would've happened if I stayed in rugby. One of those things that really changes the whole course of your life like choosing an alternate ending of a movie or something." After that he learned the industry from the ground up working in retail stores and warehouses.
"[It was] one of those things that really changes the whole course of your life, like choosing an alternate ending of a movie."
After arriving in Los Angeles, in 2011, Daniel made things happen quickly. It took him just a year to marry the girl and start his own eponymous label. It wasn't all that long after the brand became a favorite to big time celebrities, models, and pro athletes. It's a smart blend upscale sportswear and prestige streetwear, a look that highbrow fashion website Coveteur nailed as "off-duty model chic" (as in, what celebs and models wear when they're not on the clock). The pieces are hand made in Los Angeles. Daniel has listed his aesthetic influences as the cities of New York and Los Angeles, desert hikes, and classic hip-hop. Think bomber jackets, track pants, loop-terry hoodies. Daniel even designs his own Fatherly-approved sneakers (see below).
As Daniel's fashion line found its footing, his family grew. His son, Cooper, is now 7. His daughter, Brooklyn, is 4. Like every other guy, Daniel found having kids definitely was a big adjustment at first. He says, "You go from having a monopoly on your own time to having to divide it and that was and can be a challenge to this day. I think becoming a parent made me less selfish too and it gives life a nice balance. I think I pulled back a little over the past few years with the kids taking center stage in terms of focus, but now they are at a good age and we are heading for expansion. At the end of the day that will benefit them too and put a roof over their head so it's vital."
By 2020 Daniel had established a retail shop in New York City and on L.A.'s Melrose Avenue, the streetwear capital of the universe. And more recently there have been high-profile collabs with Adidas and All-Star hoopster James Harden. He also designed the 2023 alternate kit — tie-dyed jerseys — for the New York Red Bulls. "We wanted to create something that was street and a little bit disruptive whilst also being elevated with the monogram. We took some cues from our brand and infused them into the shirts," he says.
Now Daniel is betting big on himself again, growing Daniel Patrick from a fashion label into full-fledged lifestyle brand, introducing jewelry, grooming and skincare products, and perfumes. And this summer he will launch his second collaboration with Adidas.
Just as Daniel once considered following his father's path, he can see his kids doing the same. Fashion looms large at Daniel's house. "My son loves dressing and he also loves sports. So I think with him their will be some synergy. And even my 4-year-old daughter is very particular about what she wears… so you never know where they might wanna take their lives."
Daniel has grown his brand, in part, through his mastery of social media. A long look at his Instagram account and you'll notice Daniel is frequently courtside, with moguls and celebs, being interviewed. Look closely and you'll notice that in those high-profile scenarios, Daniel is frequently accompanied by his kids. He points out that right now his son has dreams of playing professional basketball. Says Daniel, "We like having our kids around, they are our best friends. We do also like to get my kids access to things they like; my son is a huge basketball fan and wants to play in the NBA one day so if I can intro him to his basketball heroes I'm gonna do that. I will support them on whatever journey they want to pursue. I just want them to be happy and see them do well."
What's your favorite thing to do together as a family?
We enjoy going out to eat as a family. My kids really love Asian food and so do I. We get shabu shabu and yakitori and stuff like that, as well as dumplings. Like me, my kids also love going shopping and we enjoy sports together as well. My daughter is into gymnastics and my son is into basketball and soccer.
If you have an hour to yourself, what are you doing?
Working or working out most likely. I like to take advantage of that time and do something productive.
What's your favorite piece of clothing or accessories that you own?
I wear a lot of my own stuff, really. Mostly I make the samples for myself to be able to test, which is a really cool feeling, to be head-to-toe in your own stuff. I'm really loving my new knitwear pants and also my new short-sleeve denim shirt jacket.
Name the most important skill you're passing down to your kids.
I guess for me it's the encouragement to follow your dreams and that anything is possible if you put your mind to it and work hard at it. My parents allowed me to follow whatever path I wanted to follow. I was never pushed in any particular direction. I was allowed to push myself in those directions. Case in point, my Dad was a pro rugby league player, and I never played rugby league until I actually asked my parents to play it. I played ice hockey and soccer first and then at 8 really wanted to play. So I think that was cool to kind of let me choose my own things.
Give us a book, record, movie, or TV recommendation.
Shoe Dog by Phil Knight. Haven't actually read it yet but after seeing the movie Air, I intend to read it, as that movie was amazing. I guess you can also take Air as my movie recommendation. As for TV, I really love Shrinking and Ted Lasso on Apple TV plus. As for records, I usually rock with anything Kanye West but of late been bumping Metro Boomin Heroes and Villains a lot.
If you could give one piece of advice to your former kid-free self, what would it be?
Keep going: It will all work out in the end and if it hasn't, it's not the end!
Daniel Patrick's 'fits are comfy, loose, informal but still super hip. And he makes sneakers that seamlessly match the ethos of his clothing. We really like the Velcro Panel Runner ($345). They are less for actually running and more for looking like you once ran. Rock them with tube socks, sweat shorts (like these by Outerknown), and a hoodie. You can be off duty chic, too.