Outerknown's John Moore Makes His Own Waves
The surfer, dad, and co-founder of the California clothing company thinks life is too short — and fragile and precious — for business as usual.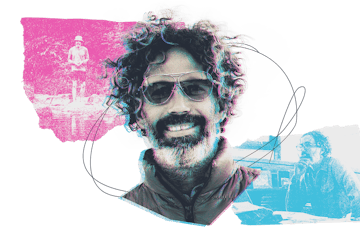 Ariela Basson/Fatherly; Getty Images, Courtesy of John Moore
Doing better by the planet isn't some abstract principle for clothing designer John Moore. He's a lifelong surfer, out on the water just about every morning by 6 AM. It's the first thing on his mind when he wakes up, before he dives into the logistical intensity of running California clothing brand Outerknown, which he co-founded with Kelly Slater, in 2013. That daily connection to the beauty of the natural world and the fragility of the planet only grew deeper and more personal after he became a dad, in 2005. ​​"I look my kids in the eyes every day and think about their future," Moore said in an interview with the Arvin Goods blog. "I'm driven by this desire to leave the planet so much better than we found it for generations to come."
As a result, Outerknown isn't just a brand that sells wildly comfortable woven shirts, soft pocket tees, minimalist trucker hats, and knit beanies to people who live for the outdoors (and, yes, clean breaks). The founders want to bring meaningful change to the clothing industry, and so they put their bold and heartfelt ethical standards out front and let their effortlessly cool aesthetic follow.
Moore was born and raised in California — he grew up in southern Ventura county, went to college in Santa Barbara, and settled down in Venice Beach with his partner, Hannah, of 20 years, their daughter, who just turned 18, and son who is 14. While Moore has taken no chances in choosing his place of residence — he's a Californian through and through — he's never shied away from taking big risks, especially in his work. Just look back to the darkest days of the 2008 recession.
With a 3-year-old toddling around the house and markets bottoming out, Moore decided to go out on his own for the first time, taking his years of experience as a creative director in the fashion industry at places like Abercrombie & Fitch and Hollister, to build his own studio. "[It] was quite scary," he says of the time, "but also exhilarating, and the next few years were some of the most creatively rewarding years."
His next venture, launching Outerknown with surfing GOAT Kelly Slater, was no less risky but brought him closer to his ultimate vision: creating a more sustainably minded clothing company. "Truthfully, Outerknown felt right from day one.… The meaning of the brand was in the name, and I knew from that moment this journey would be something really special."
Outerknown has a bold vision, outlined in their Blue Book ("There's a wicked truth at the heart of the apparel industry. We are destroying the planet") and 2030 Sustainability Roadmap. They hope to become "fully circular" by 2030, with a commitment to use fabric from recycled or regenerative materials and to recycle or reuse all Outerknown clothing through partnerships, to keep the clothing in circulation as long as possible. The company also puts a big focus on where new materials come from and how they're made, touting their partnerships with farmers, and their commitment to fair work practices. The resulting products, like the popular Blanket Shirt or Cloud Weave Shirt, are pieces that you can be as comfortable buying as wearing.
For Moore, it's all about identifying the right (or the real) priorities in life and then organizing everything else — the morning, family time, the brand — around them. We talked to Moore about the priorities that guide his time with his kids, and the choices they make together.
What's your favorite thing to do together as a family?
Road trips mostly — we're all pretty good in the car. My partner is from Arizona so we head that way often, and love the desert. This past summer we did a road trip around Iceland which was our first trip since the pandemic hit, and we all really needed that. My head's still there. Hoping to head north this summer – Idaho, Montana, Wyoming and the Dakotas.
If you have an hour yourself, what are you doing?
Surfing, meditating, or hiking.
What's your favorite piece of clothing or accessories that you own?
Been only wearing vintage or Outerknown these days. My favorite new Outerknown items would be my Chroma Blanket Shirts and the waffle knit beanies in any of the solid colors. I wear them daily. Been beanie weather in L.A. for months, and the chroma blankets pair well with my vintage jeans. Through Outerknown's Project Vermont, we offer free repairs on S.E.A.JEANS for life and we've just begun offering restoration repair on vintage jeans too. I just got back a few pairs that I'm excited to put into rotation again.
Name the most important skill you're passing down to your kid/kids.
An appreciation for Mother Earth and treating her kindly.
Give us a book, record, movie, or TV recommendation.
Book: The Four Agreements… Records: Always changing. Currently, anything Velvet Underground, Jonathan Richman or Tribe Called Quest…
If you could give one piece of advice to your former kid-free self, what would it be?
My daughter's just turning 18 so kid-free was a long time ago… simpler times before smartphones. I suppose I would just tell myself to spend more time enjoying the peace and quiet a little more. Don't stare at screens because technology is taking over soon.