I Used a Concealer for Men and Uncovered My Self-Esteem
I tried it for a month, in defiance of all unwritten dude laws, and it felt surprisingly good.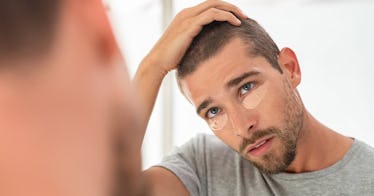 Concealer for men, also known as concealer, is a subversive product. For one thing, concealer is makeup, and makeup has largely been taboo for modern men. Concealer is also meant to hide flaws and blemishes, running afoul of traditional masculinity and its insistence on rugged, take-me-as-I-am authenticity and individualism. This is why, when I added Tom Ford's concealer for men to my Dopp kit, I felt like I was breaking some unwritten dude law. But after a month of use, I've had a realization: Makeup is badass and I should get over myself. And so should you.
Why Use Men's Concealer
I'm not a particularly vain man. However, I'll admit that life as a dad during the pandemic has made me what Tina Turner would call a "raggedy man," if I happened to stumble into a post-apocalyptic Thunderdome barter town. I am a house-bound Mad Max. I've had no restful sleep to speak of for a year. I am unshorn and unshaven, and I bear the scars of countless breathless battles with my cabin-fever crazed children.
I'm not particularly put off by my reflection, but put me in front of the harsh gaze of a laptop camera for a Zoom meeting and the horror of my journey is revealed in gritty detail that would make George Miller blush.
In short: On a daily basis, I look like shit.
Am I overstating the roughness of my appearance? It doesn't matter. Because as long as I feel like I look like shit, my self-esteem continues to circle the drain. So, why not take a stab at making myself look better? Obviously, I can only do so much myself. Haircuts are spotty, beard-care is maintenance-level, and I can dress from the waist-up good enough to fake being a professional. My skin, though? Could be better. Concealer seemed a reasonable if slightly precious solution.
Tom Ford's concealer was my weapon of choice. It has something of a cult status among guys who give a crap and I can see why. Design alone makes the concealer pretty great. Essentially it's a sleek, low profile, twist-up makeup stick in a metallic sheath that has a pleasing weight in the hand. There are three tones for varying skin tones and it's stupidly simple to apply by either putting the stick right on the spot you want to cover or using a finger. It goes on fast and there's little need to fuss over meticulous blending.
How Concealer Worked for Me
Hoping any concealer would make me more handsome is like hoping that changing the uniform color could improve the late '90s Vancouver Grizzlies. The dark circles under my eyes, like two shadowy splotches of despair, would seem inconcealable. But the concealer rose to the challenge.
Covering the darkness under my eyes made them look brighter and had the weird effect of pulling my whole face into focus. But there was more to conceal: a patch of redness on the bridge of my nose, a small pimple at my hairline, a little dark splotch on my cheek. As each of these blemishes were erased, I seemed to feel a bit more energized. My mood lifted. After the first application, I found myself smiling at my wife and making eye contact. It was weird enough for her to remark on it.
"What's your deal?" she asked.
"Notice anything?" I replied.
"No," she said.
Exactly.
I won't say that I use concealer every day. I apply it for Zoom meetings, interviews, and the rare outing. In one meeting, my co-workers did remark that I looked good, but I'd also showered and combed my hair that day, so it's hard to say what they were responding to. Doesn't matter. Confidence is always good, and I felt more confident knowing my skin looked better.
I've been trying out concealer for a month now, and it's won me over: When I wear it, I feel like a put-together dude, and not a bedraggled dad doom-scrolling his way through the end-times every night. That's a good thing. You see, concealer for men makes me feel more like my authentic self by hiding flaws made by acute and temporary stresses. It's not for anyone else. It's not for vanity. It's a self-esteem booster just for me.
Every product on Fatherly is independently selected by our editors, writers, and experts. If you click a link on our site and buy something, we may earn an affiliate commission.
This article was originally published on