The Best Face Wash for Men, According to a Top Dermatologist
Our picks to get you through the most essential skincare step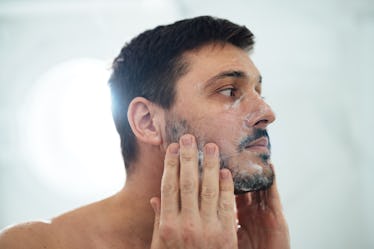 Getty Images
We may receive a portion of sales if you purchase a product through a link in this article.
It can be easy to overlook the importance of a face wash for men. This first (and most essential) skincare step can seem all too mundane for some. A good face wash or facial cleanser should be part of your daily skincare routine, as it removes dead skin cells and other impurities that clog pores and lead to breakouts and other such issues. Whether you have oily, dry, or sensitive skin, the best face wash for men is the one that gently cleanses your skin without drying it out or causing any additional irritation. It's out there. You just need to know what to look for.
First, some quick and dirty tips about dirty faces. "Most people should wash twice daily because the amount of oil and dirt that builds up over 12 hours warrants a cleaning," says Dr. Jeremy Fenton of Schweiger Dermatology Group in New York City. What you don't want, however, is a face wash that strips all the oil off of your skin. "You need to choose carefully for your skin type, and even pay attention to the season or weather," he adds.
That means you must select a cleanser based on your skin type: Sensitive, regular, or dry/combination. Non-foaming cleansers with ceramides and hyaluronic acid are the best face washes for dry or sensitive skin. A foaming gentle cleanser is ideal for those with regular skin. Have oily or acne-prone skin? Fenton suggests a face wash with salicylic or glycolic acid "to help exfoliate the skin and prevent breakouts." (What if you apply a cleanser and your skin tingles a lot? That's a sure sign that the cleanser is too strong and likely drying out your skin.)
As you look for a facial cleanser, keep this list in mind. Our picks for the best face washes for men follow Dr. Fenton's guidelines. As with anything related to your skincare, if you want to be extra cautious. Perform a patch test on the inside of your arm, or your wrist, to quickly check how you react to the specific product. With this in mind, here are our favorite products.
Every product on Fatherly is independently selected by our editors, writers, and experts. If you click a link on our site and buy something, we may earn an affiliate commission.
This article was originally published on