The Best Face Exfoliating Brushes For Keeping Your Mug Fresh
They're a deep-clean for your face.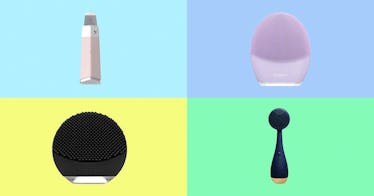 If you care about your skin, you'd be wise to invest in an exfoliating face brush. An electric face brush, to be exact. The reason is simple: The best exfoliating brushes do wonders for your complexion. A great scrub brush, which has a round brush head and sort of looks like a mini orbital sander for your face, is easy to use (just add whatever exfoliating scrub you like to the top) and leaves your face feeling like it's been buffed to a high shine. Sounds weird, but it's pretty nice.
Still not convinced? Your body is covered in trillions of skin cells. When those skin cells die, they need to be removed from the face or else they'll block pores, causing irritation, in-grown hairs, and pimples. It's important to scrub at all ages, but a bi-weekly exfoliating routine becomes critical as you age. According to dermatologist Dr. Caroline Chang, when we're younger, our body naturally exfoliates; over time those dead skin cells just don't slough off as easily. Translation: If you want to look your best, you better get familiar with exfoliation.
"Shaving can definitely irritate the skin," says Dr. Chang. "Using a gentle exfoliator like this one in the general 'beard area' is a good idea to prevent blocked pores, and make your skin look better."
Every product on Fatherly is independently selected by our editors, writers, and experts. If you click a link on our site and buy something, we may earn an affiliate commission.
This article was originally published on