Benzoyl Peroxide Fights Man Stink Better Than Deodorant
Remember when you had acne? Well, it's time to go buy some cream again.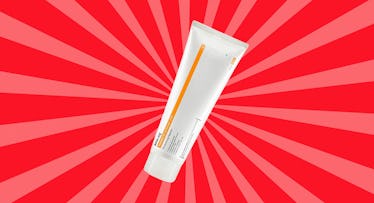 There's a time in a man's life when he is briefly proud of how strong, unique, and powerful his body odor has become. Then he turns thirty and the charms of post-puberty fade. Believe me. I've been there. I'm a smelly dad. If I don't assiduously apply deodorant / anti-perspirant, by noon my armpits smell like I have a skunk in a headlock — well, the stench is actually furfuryl mercapten, but we don't need to get into that. What my smelliness means is that, come summer, I'm pretty desperate for a smell solution. The only thing worse than smelling bad is having your kids refuse to hug you because you stink.
Frustrated and surrounded by comics page-style squiggles, I called Dr. Bobby Buka, "New York's Most Sought After Dermatologist" for help. Interestingly, Buka was quick to explain that neither deodorant nor antiperspirant is the answer. "It's actually not the sweat that smells so bad," explained Dr. Buka. "It's the bacteria." The problem, he says, lies in my apocrine glands. "They're around the butts, groin, and armpits and they're the most malodorous since they create the perfect petri dish for smelly bacteria."
Deodorant simply masks the smell produced by the bacteria and antiperspirant blocks the sweat, which isn't the problem anyway.
For the super sweaty, Dr. Buka recommends a twice-yearly injection of Botox. That's cool, but it's also not gonna happen. I don't think I'm in the minority of men unwilling to submit themselves to that sort of medical interference in the name of smelling slightly better.
The less pokey procedure involves applying benzoyl peroxide at a low dose. Those of us who suffered acne in our teens remember the stuff since it is the main ingredient in most acne face washes. At a higher dose, it can leave your skin dry and peeling. But, according to Dr. Buka, at 5 percent or under, it slaughters the stinky bacteria while allowing for the free-flow of sweat.
"You're not covering anything up," says Dr. Buka, "you're just taking away the root cause of the odor."
The only thing to keep in mind, benzoyl peroxide can bleach your clothing so it's best to wear a white undershirt if you're using the stuff. It is also best to wear a white undershirt if you're a guy who needs to take drastic measures to address his smell. So, yeah, synergy.
Every product on Fatherly is independently selected by our editors, writers, and experts. If you click a link on our site and buy something, we may earn an affiliate commission.
This article was originally published on