Slay Your Shadow
The seven best oils, creams, razors, and trimmers for the bearded, stubbled, or clean-shaven man.
by Fatherly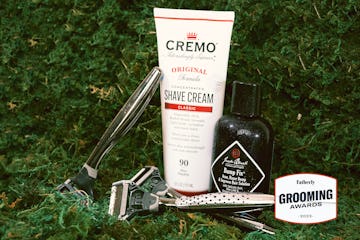 If men have no other grooming routine, they shave. All but the most grizzled souls look in the mirror and go through the process of washing, lathering, and shaving (or trimming or oiling, for those of us with longer whiskers). It's a hallowed ritual, a distinctly masculine form of self-care, and as such, the tools of the trade — the razors, trimmers, creams, and aftershaves — are often put on a pedestal.
How we find these beloved products, though, is often a rough process. Through trial and error (usually), so many of us have suffered through slashed faces and ingrown hairs due to cheap or dull razors, splotchy skin and itchy necks from alcohol-heavy aftershaves, or, maybe worst of all, yanked and botched beards from inferior trimmers. We've all been there and our judges, who have an inescapable compulsion to test all new men's grooming products, have an excellent sense of what separates the great from the mediocre. So if you're unhappy or even just fine with your blades, trimmers, and aftershaves, try out these winners.
Best Razor: Harry's Blades
Shaving is a relatively simple activity and yet the race for shaving innovation has led to impossibly complicated — pivot balls, vibrating handles, flexballs, exfoliating bars — and expensive razors. A decade ago, Harry's won its place in the shaving market by offering consumers a much-needed and much less expensive alternative to the shaving giants like Schick and Gillette. Harry's razors are beautiful for their simplicity: five Swiss steel blades, a lubricating strip, and nothing more. It's all you need for a reliable, smooth shave free of inflammation. "Shaving is like everything else in life — if you go slow and take some care, you'll be just fine," says Fatherly Contributing Editor Alex French.
Best Body Hair Trimmer: Philips Norelco OneBlade 360 Face + Body
Grooming body hair is no small feat. Simply grabbing your face razor won't cut it — but it doesn't take a pricey body shaver to get the job done either. Philips' Norelco OneBlade has long been the go-to for its convenience and affordability, but it's about more than just the price. "It's like a trimmer and a razor had a baby — the perfect styler for people who have sensitive skin, get ingrown hairs often, or just hate shaving with a traditional blade," says Dan Michel, men's grooming, fashion, and lifestyle writer. "It makes touch-ups a breeze with clean lines and zero irritation. Travelers will love its curiously long battery life, too."
Best Electric Trimmer: The Bevel Trimmer
If you have a beard and mustache combo, you'll find no better tool than The Bevel Trimmer. This versatile trimmer is great for the top of your head, but the ease of use (thanks to its sleek non-slip handle, quiet motor, and surprisingly long battery life) for men sporting well-kempt beards and 'staches is what landed it on this list. "I've been using the Bevel Trimmer on my beard and mustache for years," says Fatherly Style Editor Saleam Singleton. "It lets me shave, trim, and line my facial hair with one tool. The best part is that it doesn't bite my skin or overheat like most electric face trimmers."
Best Electric Shaver: Manscaped Beard Hedger
You've undoubtedly heard of Manscaped, but you probably didn't know they make more than ball trimmers. They've taken the technology that made their Lawn Mower a bestseller and applied it to their latest beard trimmer. What worked down there, it turns out, works very well up here. The Beard Hedger is an adjustable blade trimmer designed to make beard grooming easier to achieve. "The Manscaped Beard Hedger is sleek, simple to use, streamlined rather than bulky, and customizable to your ideal beard length with just a few clicks," says men's fashion and lifestyle writer Beau Hayhoe. "If you're a guy with a beard, you need one — simple as that."
Best Shaving Cream: Cremo Original Shave Cream
Cremo offers affordable barber-grade shaving creams that have racked up high marks among grooming aficionados. Their Original Formula (which remains one of their most popular) was the first to introduce their "impossibly slick" textured cream that makes for a most pleasant shaving experience. Its light citrus scent refreshes, but doesn't overpower. It's something great, and different — and in a category with little innovation, this gets very high marks. "Cremo gives a good, close shave for an affordable price," says Singleton. "It's hard to beat that."
Best Beard Oil: Aesop Shine Hair & Beard Oil
No product is more important to a great beard than beard oil. (What use is a great trimmer if you end up with ingrown hairs, itchiness, or flakes?) Aesop's version is light and silicone-free, which keeps it from clogging pores and initiating breakouts while soothing with a dose of hydrating jojoba seed oil. Its borage seed oil, rich in fatty acids, keeps your beard (and skin) smooth and soft — which is why style and grooming writer Lee Kynaston counts on it as a staple in his routine.
Best Aftershave: Jack Black Bump Fix
If you're not shaving as frequently as you'd like to (or should), your rationale probably has something to do with a fear of ingrown hairs. Jack Black Bump Fix, applied following a shave, is the solution you're looking for to get rid of bumps and irritation. Consider some of the ingredients: salicylic acid to dissolve dead skin and dirt, hyaluronic acid to moisturize, chamomile extract and aloe to soothe and reduce redness. But Bump Fix isn't just a post-shave solution to ingrown hairs. When applied daily with a cotton square as part of your regular skincare routine to your head, neck, face, and even back, Bump Fix will help prevent acne and blackheads, too. "A total game changer," says French. "I love it as a post-shave astringent."
Photographs by Xin Xin
Photo Director: Alex Pollack