Ziggy Marley, Son of Bob Marley, Says He's a "Childish" Parent
The singer and dad talks to us about celery juice, and why he sees himself in a "family of children."
by Donna Freydkin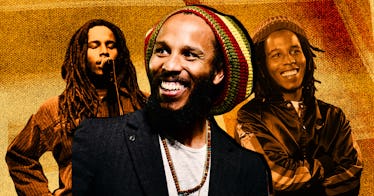 Getty
While in quarantine with his 4-year-old son Isaiah, the youngest of his seven children, Ziggy Marley introduced his kid to the questionable charm of celery juice. He enlisted the preschooler's help in making a massive pitcher of fruit punch because, well, why the hell not when you're stuck at home anyway. And teamed up with him to beat his two older brothers in a bare-knuckle game of soccer. If you're gonna be in lockdown somewhere, you could do much, much worse than Marley's LA home. "We're a big family of children, really. We play around," says Ziggy, the oldest son of that dude Bob, who died from cancer in 1981. "I'm childish. I'm childish."
But Marley also got serious, in a sense, when the musician, 51, carved out time to record and release an album, More Family Time, with an assist from Tom Morello (whose kids go to the same school as Marley's), Sheryl Crow, Ben Harper, and Alanis Morissette. The end result is joyous and uplifting and pretty much the perfect antidote to the relentlessly grim news cycle we're all living in now. Here's how it came to fruition.
What inspired this album, which seems to hit at just the perfect time as the world is going to hell?
The inspiration was my 4-year-old son. This album was created and conceived during the quarantine. My son, he's a funny guy. I wrote that song Goo Goo Ga Ga — he says it for fun. I thought it was very appropriate, in a way. With the situation we were all in — the children need some sort of relief. It's rough on them. Not being able to go to school, or see their friends.
It's pretty great that your son impacts your music, the same way you performed with your dad on stage when you were just 10.
It's a natural thing. It happens naturally.
What's your most overarching memory of your dad, if you can pick just one?
I remember everything with my dad. I mean, everything was memorable. In the hospital, his last words to me — that would be the memory I would have to tell you. He called me over. He said, 'What's up, young bub? I have a song for you.' He kind of mumbled these words. 'On your way up, take me up. On your way down, don't let me down.' That is fresh in my memory right now.
How did your own childhood influence the way you're raising your seven kids?
I was raised very disciplined. My great aunt was the one who used to take care of us when (my parents) were away on tour. Education, having manners, having respect for your elders, being humble. Those are the same principles I bring forward to my children. That is the way I am.
I lead by example. Words, words, it's better for the child to see you live the way you want them to be. It's the examples my parents set, not words.
You've been home with your kids since March. What's been the most rewarding part of that time at home?
The most rewarding part of being a dad is having your children around and having them inject in you that childlike spirit. That childlike attitude. There's times you get serious. I like having children. The best part is that innocent energy. They bring a lot of love.
Judging from your Instagram, your home seems pretty awesome. What's dinner like in the Marley household?
Dinner is like — we're cooking. Everyone cooks in my house. Sometimes my daughter cooks dinner — she cooks pasta. I'll cook some fish. Dinner is interactive. Everyone is doing something. We all sit at the table. The 4-year-old is kicking the 13-year-old.
Now, a pressing question from every parent I know. Kids don't have discerning musical tastes. How do you teach them to appreciate the good stuff?
The younger kids, it's easy. The teenagers — they're doing much better than they did before. If you try to turn them against music, that's the worst thing you can do. Then they want to listen to bad music. What I do, is introduce. When I'm in the car, I say, let's listen to some orchestra music, some symphony. They appreciate it. The music I try to get them to listen to is more thoughtful music.