Plan Your 007 Death Vacation: James Bond's Grave Now Exists IRL On This Island
There's just no time to die...but you can visit where James Bond did.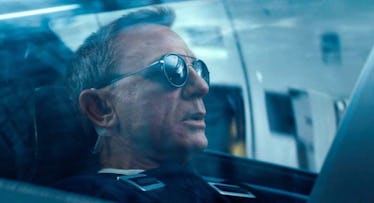 Credit: EON/MGM
If your vacation plans happen to include touring real-life locations where fictional characters died, good news! As of now, the Faroe Islands now has an actual headstone for none other than Bond, James Bond; the king of movie dad jokes. Confused? Here's what's going on.
As reported by Time Out, "the Faroese government has installed a gravestone" to draw attention to the fact that the Faroe Islands are where the climax for No Time To Die was filmed. In other words, these islands are the place in real life where Daniel Craig's James Bond died, specifically the island of Kalsoy. The Faroe Islands are a "constituent country" of Denmark and are located in the North Atlantic, northwest of Scotland, and at a midpoint between Norway and Iceland.
Now, in the plot of No Time To Die, Rami Malek's secret island hideout is located at an old WWII base between Japan and Russia, so, basically, the other side of the world from where the Faroe Islands really are. But, because there's not an actual island over there where the movie pretends there is, you'll have to do with the island that acted as this made-up place. In fairness, No Time To Die did this with its big Cuba scenes, too. Although the movie says Bond is in Cuba with Paloma (Ana de Armas), those scenes were actually filmed in Jamaica.
The newly installed headstone for James Bond reads:
In Memory of James Bond
1962-2021
"The proper function of man is to live not to exist."
This last quote references a toast given by M (Ralph Fiennes) in No Time To Die, which is actually a quote from Jack London, which reads: "The proper function of man is to live, not to exist. I shall not waste my days in trying to prolong them. I shall use my time."
Should they have gone with "We Have All the Time In the World?" Or maybe, even a cheeky, "This never happened to the other fellow?" Who knows, but let's face it, the existence of this — to paraphrase Bond's best new dad joke pun — really blows our minds.
Check out how to visit the Faroe Islands right here.
Here's where all the Bonds are streaming online right now.
This article was originally published on