We Got Newman Here! Unaired 'Seinfeld' Era Sitcom Resurfaces and It's Nuts
At the height of 'Seinfeld' mania, Wayne Knight was the star of a pilot that was shut down by NBC before it could make it to air.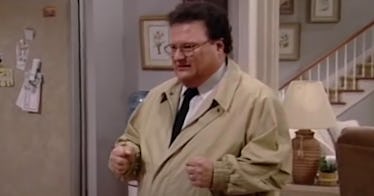 We got Newman here! Wayne Knight has had a long and highly successful career in Hollywood but no role will ever define him more than Newman, Jerry's nemesis and postman in Seinfeld. The part was so iconic that it even scored him a pilot for his own show called Middle Man and a never-before-seen unaired pilot has surfaced online that you've got to see.
The show, called Middle Man, was created in 1995 (right around the seventh season of Seinfeld) and starred Knight as a Roy Mittelman, an Assistant Supervising Systems General Manager for Southwest Regional Research, Development, and Operations at Aggroid, a biochemical agricultural company. The episode itself is… not great, as Knight's comedic talents feel underserved with a mostly generic script packed with tired jokes that miss a lot more than they hit. (You can watch the footage below.)
But, to be fair, even the most beloved comedies of all time often get off to rough starts before finding their footing (including Seinfeld), and with more time, who knows what it could have become. The show did not end up getting picked up by NBC and became one of countless lost pilots.
Perhaps the best insight into what went wrong comes from Middle Man creator Larry Charles, who provides some interesting context before showing the pilot. He was a staff writer for Seinfeld the first five seasons and after Seinfeld himself and Larry David, it could be argued that Charles was the most influential person in helping Seinfeld find its voice, as he was responsible for many of the most beloved episodes in the series' entire run, including "The Statue," "The Subway," and "The Library."
In the video, Charles expresses his displeasure in "cashing in" on the success he had with Seinfeld but when he was approached by NBC to do a sitcom starring Knight, he could not resist. He said he was drawn to Knight's "grounded cartoonishness" and was excited by the idea of building a show around that unique, paradoxical dynamic. After his idea of having Knight play a vegetarian butcher got shut down by NBC, he landed on Middle Man.
Charles said he envisioned the show as being "pure and surreal" but admits the network wanted a "grounded family comedy" and that the end result was an "uneasy mixture of the two." Even though the show never made it to air and the pilot is not exactly a masterpiece in comedy, it still is fun to see Knight playing a character so different from Newman.