Here's Where You Can Stream Obama's Favorite TV Shows
Did you sleep on some of this stuff? Let the 44th President pick your next binge.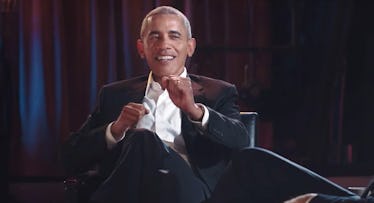 Netflix
It's one thing when a friend tells you that you have to watch a particular show. It's another thing entirely when President Barack Obama just casually mentions what he's been binge-watching. In a recent interview with Entertainment Weekly, Obama revealed which TV shows he watched while he was writing his new memoir A Promised Land. None of these are things you haven't heard of, but for some reason, if you've slept on The Good Place, Better Call Saul, and The Boys, Obama is here to remind you that these shows are pretty good, you know?
Here's where to stream each of Obama's favorite shows right now. There are only four shows on this list, but there's something here for everyone. Obama describes these as shows he puts on when "I need a break."
The Boys
Based on a comic book series of the same name, The Boys follows a titular group of vigilantes trying to take-down and take-out corrupt superheroes. The show is dark, gritty, and all about the subversion of American values by people who like to wave the flag.
The Boys (Seasons 1 and 2) is streaming on Amazon Prime.
The Good Place
You've heard of this one: Ted Danson and Kristen Bell are in the afterlife. It's funny. It's weird. It might teach us something about ourselves.
The Good Place (seasons 1-4) is streaming on Netflix.
Better Call Saul
The Breaking Bad spinoff starring Bob Odenkirk as a crooked lawyer is equal parts hilarious and strangely existential.
Better Call Saul (seasons 1-4) is streaming on Netflix.
Watchmen
Based on the ground-breaking 1986 graphic-novel by Allan Moore, the Watchmen series has become much bigger, and much more important than just a comic-book TV series. With powerful explorations of systematic racism, classism, and more issues that divide us, Watchmen is perhaps the best superhero narrative of all time.