Tim Allen Is Shockingly Returning to His Most Famous Role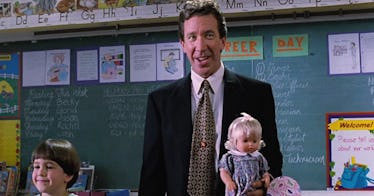 Walt Disney Pictures
Remember when Tim Allen killed Santa Claus on Christmas Eve when he scared the jolly man who was on the roof delivering presents in The Santa Clause? It was a strange start to a kid movie, for Santa to essentially die, with the movie following a reluctant man forced to take over Santa's duties thanks to a binding legal clause.
But the plot worked – the movie was wildly successful. Two movies followed the 1994 original The Santa Clause. And people haven't had enough it seems. Disney announced Tim Allen is returning to the role in a new series.
According to a press release, Tim is set to return to his role as Scott Calvin and proxy-Santa, as well as executive-produce, in an original limited series. The Santa Clause (a working title) will pick up several years after the final movie.
Calvin is "on the brink of his 65th birthday and realizing that he can't be Santa forever. He's starting to lose a step in his Santa duties, and more importantly, he's got a family who could benefit from a life in the normal world, especially his two kids who have grown up at the Pole," the press release says.
"With a lot of elves, children, and family to please, Scott sets out to find a suitable replacement Santa while preparing his family for a new adventure in a life south of the pole."
According to IMDb, the 1994 The Santa Clause grossed $190,539,357 worldwide. Two more sequels followed: The Santa Clause 2 in 2002 and The Santa Clause 3: The Escape Clause in 2006. They were super successful, too, with the second earning $172,855,065 worldwide, and the third grossing $110,768,122.
Those are big numbers, so it's not exactly a surprise that Disney would want to see if they could hit gold for a fourth time, with a TV series this time. Production on the new original series is scheduled to begin in March, so there's a chance it'll be ready in time for the 2022 holidays.
This article was originally published on