Sandwich, Schmandwich: Thanksgiving Nachos Are The Best Way to Use Leftovers
Combining your leftovers into a communal plate of day-after nachos is a great move.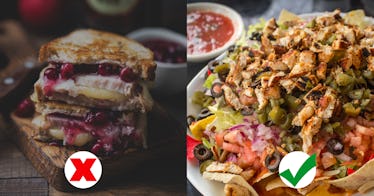 The Thanksgiving leftover sandwich is perhaps the most anticipated and discussed sandwich of all time. The combination of turkey, stuffing, and whatever other remaining Thanksgiving Day foods placed between two thick pieces of bread is the sandwich that launched 1,000 Internet pieces and "hot" takes about the proper way to assemble it. Don't get me wrong: I love the sandwich as much as the next person and have my preferred method of assembly (In case you're curious, it's country bread — toasted — with mayo on both sides, turkey, stuffing, green beans, and a little bit of cranberry sauce, all seasoned with salt and pepper). But my favorite way to use up those coveted leftovers isn't a sandwich at all. It's all about this Thanksgiving nacho recipe.
I'll always eat a day-after-Thanksgiving sandwich. But there are always a lot more leftovers to use up. Because I don't want to just have another pale facsimile of Thanksgiving that grows thinner by the moment or blaspheme the name of the day-after-sandwich by making two, I like to pile high a plate of nachos using turkey and whatever tweaked ingredients are left in the fridge. The combination of ingredients, plus some spices and a minimal amount of cooking, leads to a plate of leftovers that pairs perfectly with a day of binge-watching/online-shopping.
The best part of Thanksgiving nachos is that you can throw whatever the hell you want on top of them. Turkey is a must. But anything else is your call. Want to throw in some classic Tex-Mex ingredients like salsa or jalapenos? Go for it. Want to make it more traditional leftover-y? That's fine too. It's a really fun tradition, one that kids enjoy being a part of as well.
The first thing I do is set a pan over medium heat, add a glug or two of oil, and throw in a bunch of shredded white turkey meat. I season it with a bit of salt, some cayenne, garlic powder, chipotle powder, and a good drizzle of honey. I let that crisp up for about 5-6 minutes, stirring to make sure it doesn't stick and then set it aside.
Then, I tear open a bag of tortilla chips and dump a layer on a baking sheet lined with foil. I layer some of the crisped turkey as well as some scoops of stuffing, sliced Brussels sprouts, some chopped up butternut squash or sweet potatoes (if there are any leftover), a few dollops of cranberry sauce, and sprinkle some shredded cheese on top. If I have them, I'll probably toss in some sliced red onion and pickled jalapenos. Then, I add more chips and repeat the layer of toppings and finish with more cheese.
That's it. The tray goes into the oven at 425 for 10-15 minutes or so and then you have an easy-to-throw together communal Thanksgiving leftover meal that offers a different spin on the same flavors and textures. Thanksgiving nachos are delicious, quick, and also defeat the "turkey…again?" syndrome that might strike in the days after the holiday. It deserves a place beside the coveted sandwich in the leftovers hall of fame.