How to Stream the 2022 Winter Olympics
Everything cord-cutters need to know to make sure they don't miss out on watching their favorite events.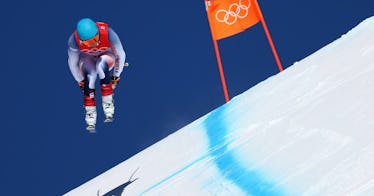 Tom Pennington / Getty Images
The Winter Olympics will officially begin this weekend (technically, some of the events have already begun), with the Opening Ceremony kicking off on Friday, February 4 at National Stadium. It's an exciting time where all of us fanatically watch the best athletes in the world compete in sports we only watch once every four years. But how do you stream the games if you live in a cord-cutting household? Here's what you need to know.
How to watch the 2022 Olympics on streaming
The Olympics are being broadcast on NBC and for streamers, that means the coverage will be available on Peacock, including the Opening and Closing Ceremonies, primetime coverage, full replays of all competition once they conclude, medal ceremonies, and everything else you could want. You do have to have Peacock's premium subscription, meaning you'll need to pay $4.99 for a month of service.
While Peacock is definitely your best bet if you want to the Olympics to take over your life for the next few weeks, there are other options. FuboTV, YouTube TV, Sling TV, and a variety of other streaming alternatives to cable offer NBC in their packages, which will give you all the Olympic coverage you need. You might even be able to do a free trial for a few of them to watch for free.