Disney's $5,000 Star Wars Hotel Slammed as a "Windowless Bunker"
Ready for a LARP vacation with tiny rooms?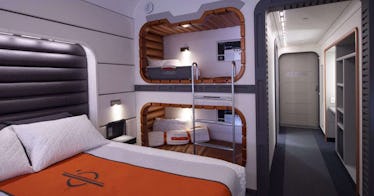 Courtesy of Disney
The highly-anticipated Star Wars: Galactic Starcruiser officially opened at Disney World and initial reviews of the hotel have begun flooding in, with the general experience being a mix of praise for the immersive "Star Wars" experience and complaints about the actual accommodations.
On the positive side, initial reviews have noted that the Halcyon, which is meant to give the experience of being on a luxury cruise liner in the Star Wars universe, does a nice job of making you feel like you are vacationing in a galaxy far, far away. The staff are all playing different characters and you can even investigate different storylines that becomes sort of a "choose your own adventure" with an immersive story that concludes by the end of your stay.
But on the flip side, the rooms themselves seem to resemble being trapped in the sarlacc pit, as Polygon's Charlie Hall wrote that the rooms are "entirely too small, falling somewhere in between the narrow cabins of a Disney cruise ship and a basic hotel room in a Disney World resort hotel." The lack of space seemed to be a problem throughout the Hacylon, as he said he expected "the atrium to be taller, the banquet hall to be wider" and that the cantina was "at most half the size of Oga's Cantina in Galaxy's Edge."
Given the high price tag (a two-night stay ranges from $4,800-$6,000 depending on the number of guests), some families may be disappointed to find that they, as YouTube channel Disney Food Blog put it, are paying this much to be "inside a windowless bunker for two full days."
Some people seem to be trying to make their money back by channeling their inner Han Solo and selling smuggled items online, including the Galactic Starcruiser exclusive Droid Depot SK-620 remote-controlled droid and the Starcruiser Halcyon Lightsaber Hilt.