This Star Trek T-Shirt Subscription Is Perfect for a Geeky Father's Day
A last-minute gift for dad from the Final Frontier.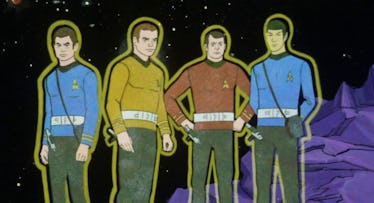 Credit: CBS
It's that time again, time for last-minute Father Day's gifts — or if you're the dad in question — making some strong hints as to easy things someone can get you this year, that require almost zero effort. And, if you're a dad like me, there's a good chance that you like t-shirts. You can never have too many funky t-shirts, but one unique way to go is with a t-shirt subscription. Geeky dads come in various forms and infinite combinations, but the Star Trek dad is a unique lifeform. We love Star Trek dads at Fatherly, and so, if you've got that kind of parental unit in your house, check out this deal.
While we're not recommending uniformed cosplay for dad (that's its own thing) we do think having various possibilities for Trek shirts is the way to go; even Picard mixed it up with a different jacket every once and a while. That's why this Star Trek T-shirt club is so dope. Every month, you get a new Star Trek T-shirt. That's it. If the person getting the Star Trek t-shirts doesn't like all of them, you can, apparently, exchange them for different ones! Basically, this T-shirt club operates by the same open-minded principles of Starfleet and the Federation; everyone gets what they want!
Make it so, and get dad this t-shirt subscription, it's the only logical thing to do.
If the Star Trek t-shirt club isn't quite doing it for you, but you still want to send dad some kind of Trekkie gift in the mail, there's also this kooky-cool Borg Cube Advent Calendar. Shaped, like the iconic Borg ship from The Next Generation, Voyager, First Contact, and Star Trek: Picard, this gift contains 24 separate gifts, all in hidden, smaller packages. If you're looking for a gift that is kind of for Father's Day, but kind of for the rest of the year, resistance is futile on this one.
This article was originally published on