New 'Star Trek' Kids' Cartoon Just Added a 'Westworld' Villain
Jimmi Simpson wears the black hat. Even in space.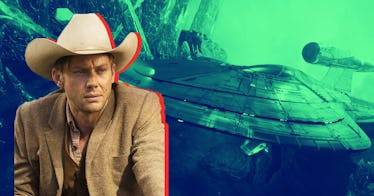 HBO / Paramount+
Sometime in the fall of 2021, Paramount+ and Nickelodeon will debut the new kids' cartoon Star Trek: Prodigy. Unlike the rest of the sprawling Trek franchise, this show will be specifically aimed at young kids, and designed to be totally user-friendly if your family doesn't know anything about Star Trek. In terms of nerdy accessibility, think of it like that first J.J. Abrams Star Trek movie; but aimed at 7-year-olds instead of thirtysomethings. And now, Prodigy has revealed that one evil robot in the voice cast is somebody else who has dealt with evil robots before; Jimmi Simpson of Westworld fame.
Turns out, in both a robot Old West and in the Final Frontier, Jimmi Simpson will become a baddie. In Star Trek: Prodigy, Simpson will play a robot enforcer called Drednok, who is in pursuit of a spaceship called the Protostar. In this series, the Protostar will be an abandoned starship commandeered by outcast alien tweens and teens, sort of like a sci-fi version of The Boxcar Children, but with more warp drive and fewer bungalow mysteries.
The voice cast of Prodigy will also include John Noble as the Diviner, the evil master of the robot Drednok. You might remember Noble as Denethor in Lord of the Rings, a king who was corrupted by power. Again, familiar territory! Prodigy also features the return of Kate Mulgrew as a hologram version of Captain Janeway from Star Trek: Voyager. The creators of the show are the brothers Dan and Kevin Hageman; who, perhaps most famously co-wrote the script for the first LEGO Movie. Basically, with all this talent, all signs seem to point to this new animated family-friendly take on Star Trek to be legitimately great.
This fall Star Trek: Prodigy, will hit Paramount+ the current streaming home of other Star Trek shows, and you know, Paw Patrol, too.