Energize! 'Shatner in Space' Documentary Hits Prime Next Week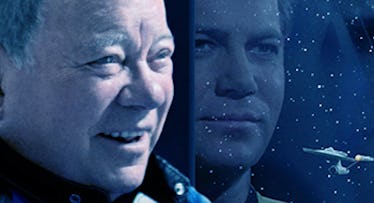 Credit: Amazon
If you're done binging the Beatles documentary, and you've checked out our overlooked 2021 documentaries (including the origin of Sesame Street and the brilliance of Kurt Vonnegut) there's some good news. There's still one more excellent documentary left in 2021. And this one was a surprise! On December 15, Amazon will release Shatner in Space, a new one-hour special detailing William Shatner's historic journey into space on Blue Origin's New Shepard.
At 90-years-old, William Shatner became the oldest human being to ever travel in space, a fact which is made even more spectacular by the fact that for millions, since 1966, he's also known as his fictional alter ego; the space hero Captain James T. Kirk, in various iterations of Star Trek.
In Star Trek: The Original Series, Captain Kirk famously gave a rousing speech to his staff, telling them that part of space travel and the enterprising human spirit was because "risk is our business!" The idea of boldly going where no one has gone before is tied into the idea of William Shatner as a person, but also the ways in which he has inspired many others to be the best they can be in their own lives. For families, this kind of confluence of pop culture and living history is rare and, as one of Kirk's famous pointed-eared friends might say, "fascinating," too.
But, there's a deeper, more urgent message here, too. Shatner in Space isn't just about a famous actor going up in a rocket, it's about what the perspective of space travel can do to help people imagine a better future for the next generation, and the generations beyond that. As Shatner said: "My time in space was the most profound experience I could have ever imagined…this special documenting my journey gives a dramatic view of that experience, and my hope is that it inspires the world to see we must go to space to save Earth."