Watch the 4 Best Moments From Simu Liu's Excellent SNL Episode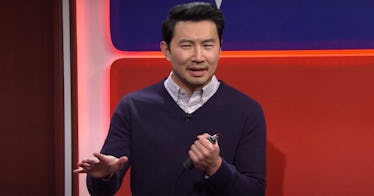 Saturday Night Live is having its best season in recent memory, as a flurry of new hires and breakout performers have made every episode must-watch. And that hot streak continued with the most recent episode, with Shang-Chi star Simu Liu taking on hosting duties and helping to deliver laughs from the cold open to the 10-to-1 sketches. Here are four of the highlights that you absolutely need to see.
Monologue
The monologue is rarely the funniest part of an episode of SNL but it often functions as a tone-setter and for Liu, he quickly showed that he was comfortable and game to do whatever was asked of him. He made a few jokes about being Canadian, saying that he got the lead in Shang-Chi by "asking politely (which is actually kind of true). The short and sweet monologue set the stage for the rest of the show, where Liu was often front and center earning laughs from the audience.
Best Sketch of the Night
Liu teamed up with Bowen Yang to deliver a hilarious and ridiculous game of one-upping each other as they both shared their "First Asian" accolades. They started off congratulating each other for being trail blazers, with Yang being the first fully Asian cast member in SNL history and Liu being the first Asian lead in an MCU film. They played it humble at first but things quickly escalated as they both shamelessly started mentioning their most ridiculous "First Asian" accomplishments before competing to become "The First Asian Man to Do a Cher Impression on NBC."
Weekend Update
After a jury controversially ruled that Kyle Rittenhouse was not guilty on all charges last week, it felt obvious that Update hosts Michael Che and Colin Jost would be ready to take some shots. And they did not disappoint, with both getting in a few zingers with laser accuracy.
Che, who is at his most comfortable when delivering uncomfortable one-liners, joked that "hopefully [Rittenhouse] got all that shooting out of his system before he becomes a cop" in response to the verdict. Meanwhile, Jost addressed the fact that Republican Matt Gaetz said he was open to bringing on Rittenhouse as an intern, saying it was unsurprising because "Gaetz has always loved teenagers who are willing to do terrible things."
Republican or Not
While Americans are increasingly polarized on the political spectrum, SNL took a look at the ways people on both sides of the aisle are similar (at least on the surface) with a hysterical game show sketch called "Republican or Not." Basically, contestants had to figure out if people were Republican based on statements like "I think Facebook is evil" and "my favorite comic is Dave Chappelle." Ultimately, it felt like the joke was the fact that no matter where you fall on the political spectrum, we can all agree everything is pretty terrible right now.