8 Ways To Guarantee Your Kid's Birthday Party Isn't a Dud
Follow these rules to avoid having one of those disastrous kids' birthday parties.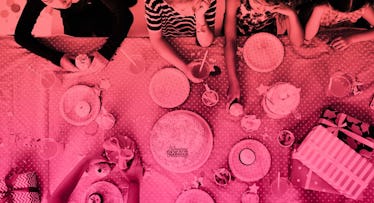 Kids' birthday parties can easily be a total train wreck or just genuinely awesome. It doesn't much matter if it's an indoor birthday party at home, held a trampoline park, or inside a planetarium — a celebration staged anywhere can be either a ton of fun or a mess of sobbing kids and pissed-off parents. That's because it's all about how you run it. Whether the event is large or small, extravagant or simple, there key components that all great kid parties share. Here's your cheat sheet.
ALSO: The 7 Worst Birthday Party Venues on the Planet
1. Keep them short.
Most venues have predetermined time slots for parties, but if you're hosting the festivities, figure one-and-a-half to two hours for children 5 years old and under. Make it two to three hours max for older kids. If the party runs any longer, you'll risk children pooping out and getting cranky.
By having a set endpoint — that you state in the invitation — you'll be compelled to keep activities moving along and ensure that parents know when to collect their kids. Do your best to start on time, and if it's looking like you can't squeeze everything in, it's better to abandon an activity than let the event run long.
2. Make everyone feel welcome.
Every kids' party has one or two shy guests who feel overwhelmed and stay on the sidelines. Every party also has a loudmouth, a ringleader, and probably a troublemaker. To get a read on each child's personality and know what you'll be dealing with that day, try to every guest individually as they arrive. Ideally, the birthday boy or girl should greet everyone too. This also ensures that every kid feels welcome and, hopefully, helps ease the shy ones' fears. Then after your hellos, get them involved right away so they'll feel included. Guide them to the jungle gym, to the coloring table, or into the rec room where the other guests are watching Dora until everyone arrives.
3. Make sure everything is well-supervised.
Trust us, you never want to be outnumbered and overrun by a pack of overexcited grade schoolers. Without enough adults or older siblings running the show, you'll be bandaging Olivia's bloody knee while Carson's crying in the corner and Billy's gone missing and your own child is yanking on your arm.
To prevent all-out chaos, if your child and their friends are 6 years old or younger, ask that parents stick around for the party. Or keep the guest list to a handful. If your child is older and wants to invite more than 10 or so kids, see if one or two of the parents will kindly stay to help or recruit a relative or friend for backup.
When planning a party somewhere other than your home, find out how involved the venue's staff will be. Some places, such as many YMCAs, painting studios, and rock-climbing gyms, offer staff-led instruction and supervision, letting you get away with fewer adults in your army. However, other venues — science museums, skate parks, batting cages, for example — are less likely to provide helping hands.
4. Keep the kids busy.
In most cases, unstructured play is excellent for children, but a birthday party is not the place for it. Left to their own devices, a pack of energy-charged children will squabble over what to play and with whom, and your own kid may not share their toys as well as you'd hope. Before you know it, you'll have wrestling matches, name calling, gang-ups, hurt feelings, and tears—especially if you've invited your kid's whole class and not everyone gets along in the first place.
To sidestep these issues, keep guests busy with activities. Think treasure hunts, necklace making, cupcake decorating, photo booths, bouncy houses, obstacle courses, charades, musical chairs. But avoid anything too competitive that could separate the "winners" from the "losers" and lead to taunting, targeting, or all-out battles. All that said, don't try to jam in so many activities that the guests tucker out.
MORE: Two-Year Old Birthday Party Ideas
5. Show restraint with the candy and sweets.
Sure, you allow your child a few treats on their birthday that they don't often get. But feeding 12 already-crazy 8-year-olds cake, ice cream, root beer, Skittles, Sour Patch Kids, and Swedish Fish? Come on. All those sweets will just spike their blood sugar and make them even more wired and tougher to keep track of. Then, of course, their blood sugar will crash, either toward the end of the party or, if you're lucky, once they're back home. Next come tantrums, meltdowns, and vengeful parents.
Keep the sugary treats to a minimum. Maybe serve cake, no ice cream, fruit-infused water, and fresh strawberries to snack on. And if you are doing candy, stick to just one kind.
6. Don't open gifts.
Some parents think their kid deserves the spotlight while tearing into presents and the gift givers deserve to watch theirs being opened. That's fine for family gatherings — Grandma may insist on watching her angel squeal with glee — but for kids' parties, save present opening until after the guests leave. That way, you avoid creating a roomful of jealous children and you don't have to worry about yours not-so-subtly expressing their displeasure with a gift.
7. Give the adults something to do.
Don't leave your grownup guests lurking awkwardly in the background. Don't stick them with mini corndogs and flat orange soda in a tiny Dixie cup. Show your relatives, friends, and the other kids' folks that you appreciate their presence by offering them beer or wine (in moderation, of course), sparkling water, or iced tea. Set out a nice meat and cheese tray and other adult-friendly apps for grazing. And if you can, create a space just for them so they can break from the frenzy and mingle.
8. Be flexible.
Despite your meticulous planning, be ready for a few surprises and hiccups. Maybe a game of bingo runs long or you realize halfway through that the kids aren't into it. Or perhaps they've just finished the three-legged race and now they're screaming for more. It's OK to let the kiddos direct the flow somewhat—after all, this party is for them, not you. Just expect the unexpected and be willing to adapt on the fly. Even if something goes "wrong" — say, the magician you hired is a dud or the pizza place delivers three onion- and green olive–covered pies instead of one pepperoni and two cheese — remember, it's not a crisis. As a parent, you're always thinking on your feet, so keep calm, address the issue, and party on.
This article was originally published on