Raffi Just Released a New Song For Essential Workers Called 'For All You Do'
The legendary children's musician tells us about how and why he wrote his newest song.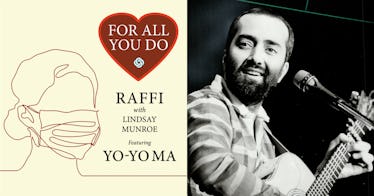 GETTY
For parents looking to talk to their very young kids about big issues in the world, one of the best ways is through the music of Raffi. Yes, Raffi, the guy on the banana phone, friend of baby beluga, and eater of eeples and baneenees. Raffi is also a modern-day Pete Seeger, a songwriter on the front lines of writing relevant music for kids about the historical times we're all living through. Since 2019, he's released songs supporting protesting moms in Portland, and written a song called "Young People Marching," in honor of Greta Thunberg.
Now, Raffi's newest track is called "For All You Do," and it's all about essential workers.
"It's my song of thanks to essential workers, who do the jobs that make our society tick and help all our lives," Raffi tells Fatherly. "The teachers, the doctors, the nurses, the delivery people, the transportation people, there are so many essential workers in our lives. And I wanted to say thank you."
The song is a duet with Lindsay Munroe, a children's musician who has sung with Raffi before. He sings with Munroe on the title track of her debut album I Am Kind, which Raffi also produced.
"Anyway, Lindsay did a fine job on this recording, too. And, we're delighted to have with us, accompanying us, cellist Yo-Yo Ma! I'm really excited about this song." This also isn't the first time Raffi has collaborated with Yo-Yo Ma. Just recently, Yo-Yo Ma played with Raffi on the 40th-anniversary video version of "Baby Beluga."
With "For All You Do," and his other more timely songs, Raffi thinks the goal of the music is to try and help kids understand difficult things, without scaring them. "We try not to burden children with concerns of the adult world," he says. "And at the same time, they live with us and they have a right to know what's going on. Especially when it affects all our lives."
You can listen to "For All You Do," right here. All streams and purchases of "For All You Do," directly benefit the non-profit group, Direct Relief.
This article was originally published on