Watch the 4 Best Moments From Owen Wilson Hosting the SNL Season Premiere
From ridiculous school board meetings to hilariously dark 'Cars 4', Wilson brought the laughs as host.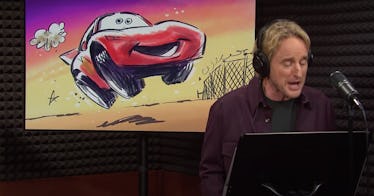 The new season of Saturday Night Live premiered on, you guessed it, Saturday night, with Owen Wilson taking on the hosting duties for the first episode. The 52-year-old funnyman was a consummate pro in the role of host, confidently bringing his "let's all just have a good time" attitude to the show while delivering laughs throughout the night. Here are a few of Wilson's highlights from the episode.
Monologue
The monologue is obviously the best place for an SNL host to set the tone for the episode and Wilson pulled that off with a healthy dose of his trademark laidback charm. He started off cracking jokes about the vaccine being available "everywhere except Florida" and jokingly celebrated that "everything went back to normal for about a week-and-a-half."
He then revealed that his brothers, Luke and Andrew, were in the audience and discussed his hilarious perspective on reading reviews about his acting: "I just read the good ones. I really find that the bad ones, they don't speak to me in the same way." It was a quick, easygoing performance from Wilson that had everyone laughing, relaxed, and excited for the rest of the show. (And Owen, if you're reading this, I loved you in The Royal Tenenbaums.)
Cars 4
Wilson is probably best known by your kid as the voice of Lightning McQueen in the Cars franchise and SNL couldn't resist the opportunity to have some fun with this by having him come in to read lines for the fourth film. As he starts going through the lines, Wilson begins to wonder why the script has storylines about McQueen creeping on high school girl cars and complaining to a judge that he's not being allowed to race because of "one bad date."
School Board Meeting
Every parent knows how complicated of a mess it has been getting kids back in school and SNL nailed that complex chaos of COVID protocols with a sketch that showed parents asking school board members increasingly ridiculous questions. Wilson appeared as Mr. Dot, an earth science at Robert E. Lee Was Bad Middle School who accidentally misread the memo and started reluctantly re-segregating his class as a result.
NFL on Fox
Football season is back and one of the funniest parts of watching a game is when the announcers have to plug shows they clearly have never heard of for whatever network is broadcasting the game. Wilson and newcomer James Austin Johnson have some fun with this concept, as they played legendary announcing duo Troy Aikman and Joe Buck who have to keep promoting a show called Crazy House. Wilson manages to steal the sketch by bringing blissfully out-of-touch dad energy to his performance as Aikman, calling The Office "Dwight Schrute" and asking if rapper DaBaby was the star of Boss Baby.