The 4 Funniest Moments from Oscar Isaac's Episode of 'Saturday Night Live'
From the opening monologue to a takedown of 'Paw Patrol,' Isaac was hysterical in his first time hosting.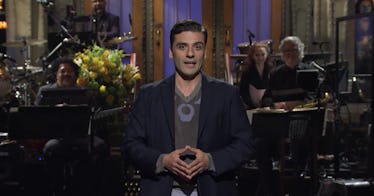 Following up John Mulaney is a tough gig but if anyone is up to the task, it's Oscar Isaac, who hosted the latest episode of Saturday Night Live over the weekend. Surprisingly, it was the Dune star's first time ever hosting and he was a natural in the role, taking center stage in nearly every sketch throughout the night with his signature charm. The 42-year-old might be primarily known as a serious actor but he showed he's every bit as comfortable delivering laughs. Here are the best moments from Isaac's hilarious episode of SNL.
Oscar Isaac's Opening Monologue
The monologue is often the tone-setter for the entire episode, as it lets the audience know what the next 90ish minutes will look like. But it's rarely the highlight of the episode, except in this case, as Isaac is so charismatic and likable that I would have gladly watched him chat on stage for the entire show. Isaac started out with a few jokes about Hollywood, noting that he's half Guatemalan and half Cuban "or as casting directors call that, ethnically ambiguous."
But the real highlight was when he showed a home video of his first starring role, a movie called The Avenger that he starred in, directed, and wrote when he was 10 years old. The short clips featured him breaking an extremely thin piece of wood, acting while his friend's dad was cleaning the pool in the background, and showcasing his acting talent by playing two characters.
The Cold Open
There is a lot going on in the world right now but the biggest story is certainly Russia's ongoing invasion of Ukraine, so naturally SNL opened with a political sketch addressing the situation, though in a somewhat roundabout way. The Cold Open showed Fox News' Laura Ingraham (Kate McKinnon) and Tucker Carlson (Alex Moffat) hosting a Ukrainian Invasion Celebration Spectacular to raise money for the "real victims" of the conflict: those poor Russian oligarchs. Former President Donald Trump (James Austin Johnson) made an appearance answering phones and the whole opener was a sharp takedown of Fox News for its long-standing support of Putin's aggressive regime as President of Russia.
The Dark Reality of Paw Patrol
One of the funniest sketches of the night for parents imagined a world where Paw Patrol actually exists and the results are a predictable disaster. After the mayor of Adventure Bay allows for dogs to replace the police officers and firefighters, city councilman Herb Tangier (Isaac) reveals that the Paw Patrol's ineptitude is destroying their town. A group of concerned citizens complained that it is clear "a group of six dogs cannot protect a city roughly the size of San Diego." It's a sketch that parents especially will appreciate, as every mom and dad forced to endure endless hours of Paw Patrol have likely wondered if these canine do-gooders are actually keeping their town all that safe.
Weary Mother in Her Darkest Hour
Ego Nwodim has proven to be one of the breakout stars of SNL this season and she delivered another powerhouse performance on Weekend Update as Pauline (aka "The Weary Mother") to discuss Rihanna's pregnancy. Pauline revealed that she was pregnant again, complaining that she looked like she was "trying to shoplift a turducken." It's one of the funniest recurring guests on Update and one that parents (especially mothers) will appreciate.
This article was originally published on