Oscar Isaac Has Big Dad Energy For 'Dune.' His Wife Is "Freaked Out"
The cinematic dad of the moment talks 'Dune,' 'Addams Family 2' and how his son helped him pick out his big Marvel role.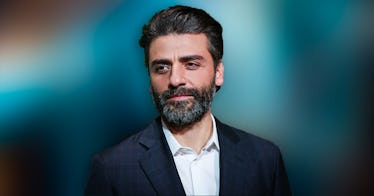 GETTY
Oscar Isaac is a beautiful man. This is an obvious aesthetic fact, but it's also true of his effusive personality. To talk to Isaac is to feel better, more buoyant, and refreshed. Even if you can't see his face, the voice of Oscar Isaac has unparalleled magic. He sounds like a movie star and your best drinking buddy simultaneously. He's at once unknowable and down-to-Earth as hell. And it's exactly in this everyman superstar quality that his diverse talent lies. He's also the biggest movie dad of the moment.
In the past two months, Isaac also starred in the gritty Paul Schrader film The Card Counter and the smoldering remake of Scenes from Marriage (along with Jessica Chastain). As of this week, the world will surely be buzzing about his big dad energy in literary science-fiction epic, Dune: Part One, in which he plays the patriarch of House Atreides, the noble Duke Leto, father to the film's protagonist, Paul Atreides (Timothée Chalamet). But in between lighting up the red carpet with Chastain, and growing a massive beard for Dune, Isaac slipped in some voiceover work for the animated film The Addams Family 2, in which he reprises the role of Gomez, the father of that spooky and kooky family, originally played by John Astin in the 1964 TV show. He also jumped on a Zoom call with Fatherly one week before Dune came out, to discuss playing good dads in movies, what he's most proud of as an actor, and how his 4-year-old helped convince him to become Marvel's next big superhero, Moon Knight.
Although Addams Family 2 and Dune are for entirely different audiences — one is for little kids and the other one, arguably for adults who love their old science fiction paperbacks — Isaac plays good, solid fathers in both films. But he doesn't "consciously" choose roles to make sure the world is filled with "a good representation of a good dad." For him, it's a little more complex than that. And yes, there is a connection between Gomez in Addams Family and Duke Leto in Dune.
"Those particular characters are trying to do the best they can with difficult situations," Isaac explains. "With Duke Leto, he's in a tough spot and he knows he might be going down. The best he can hope for is to set a good example of what a real noble leader is, and to pass that on to his son. And in similar ways, Gomez can feel that there's a disconnect with his daughter. And in a much more desperate way is trying to get her closer. And part of his journey is learning to trust her a bit more."
Isaac doesn't believe there's an on-the-nose lesson here. We're all supposed to be good fathers, so just having positive role models of good fatherhood isn't quite enough. He's more into the pain. "What's more interesting to me is how a father struggles to do the right thing," Isaac explains. "And sometimes fails at it. But learns through that."
Isaac has two kids — a 4-year-old and a 2-year-old — both of which he's very private about. But, to Fatherly, he does reveal what his kids watch, and it's not going to be Dune.
"Not for a while," Isaac says with a laugh. "Even my wife gets freaked out by Dune, it's so overwhelming."
Still, his kids are just like your kids. Their dad reads them Dr. Seuss's The Sneetches as a bedtime story, the family is obsessed with the Toy Story shorts on Disney+, and Isaac says "my youngest loves looking at videos of cows. Just real cows. Obsessed with cows."
Next year, the world of the Marvel Cinematic Universe will have a new superhero, the enigmatic Moon Knight, who will be played in a limited Disney+ series (ala' Loki) by none other than Oscar Isaac. But, he may not have accepted the role had he not basically auditioned for his 4-year-old first. Isaac says he's "just finished" shooting Moon Knight, and "what led me to actually taking it on was that I started doing the characters for my 4-year-old. And he was laughing so much and having such a good time that it was a good indicator that this was something that I wanted to do. There is something really lovely doing something where you feel that this can be part of my family."
Right now, there are several ways to hear Oscar Isaac's voice or see his face, sometimes bearded, sometimes not. You can rent Addams Family 2, you can stream Scenes From a Marriage on HBO Max, or you can rent The Card Counter, the Paul Schader film about an ex-military integrator who becomes a gambler. Isaac loved this project, calling it a "deeper dive," that for everybody," and that it afforded him serious "character study." That said, of all his new projects, Isaac says he's extremely "proud," of Dune. In the film, his performance as Duke Leto is not only inspiring but bittersweet. When young Paul tells his father that he's not sure he can live up to his dad's role as the leader of this royal outer space family, Leto tells Paul that it doesn't matter. "Even if your answer is no, you'll always be the only thing I ever needed you to be. My son."
It's affecting scenes like this that make Dune both massive and down-to-Earth, just like Oscar Isaac. "I was so grateful that I just got to be part of Dune," Isaac says. "When I saw it and I left, I was just filled with gratitude that I got to be a little part of something that is so cool."
Dune is playing in theaters and streaming on HBO Max as of October 22, 2021.
The Addams Family 2 is playing now.
This article was originally published on