10 Outdoor Birthday Party Games & Activities for 3-Year-Olds
Looking to impress a 3-year-old on their birthday? Party on a farm, at the "beach", or by digging in the yard.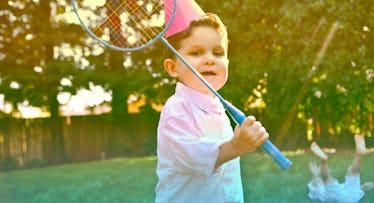 Outdoor birthday party ideas for the average three-year-old leave many parents scratching their heads. Not quite old enough to be swept up by Disney Princess Fever or LEGO Madness, for many, the idea of just parking them in front of an iPhone seems as good as any. Well, let us let you in on a little secret: the outdoors is a sure three-year-old birthday party crowd pleaser. En plein air, toddlers can run care-free without risk of knocking over lamps, sticking forks in outlets, or taking a coffee-table corner to the dome. Furthermore, they can play outdoor party games, roll in the dirt, and explore the endlessly fascinating world around them, while you can enjoy an easier cleanup. When it comes to backyard birthday parties for toddlers, look no closer than the great beyond (at least to a three-year-old) of your great backyard.
RELATED: The Best Gifts for 3-Year-Olds
Dinosaur Dig
Letting kids play paleontologist isn't as difficult as you might think. Just fill up a sandbox, buy some dinosaur toys and bury them, give the little scientists some shovels, brushes, and magnifying glasses, and let 'em go! Watching how excited kids can get just by having a sense of discovery in the backyard is well worth it.
Hidden Treasure Scavenger Hunt
Since reading (and staying focused) can be difficult for anyone who hasn't even made it to Kindergarten yet, create a backyard scavenger hunt that uses pictures as clues. Print out pictures of different landmarks in a park or your backyard and hide each picture in the place that leads to the next (for example, give the kids a picture of the slide to start, then hide a picture of the picnic table on the slide, etc.). Use four or five pictures as "clues" to lead kids to the treasure—which can be candy, toys, or whatever else your little one loves.
Create Your Own Time Capsule
Let kids make pictures and write out a list of their favorite things (with your help). Then, put the notes and keepsakes in a jar that they can decorate however they like. Bury the "time capsule" in the backyard beneath a tree and dig it up next year on their next birthday.
Throw a Critter-Party
Buy (or make) a few headbands with ears on them and fluffy tails and let kids dress up as their favorite animals. Bonus if you have a few rabbits, birds, dogs, or cats on site that the little ones can pet. Extra bonus if you end the party with a Fantastic Mr. Fox showing.
Build a Construction Site
Give all your guests some hard hats and let them build whatever they like with Legos, blocks, and any other "building" supplies you can find laying around. This one is all about letting kids get creative and have fun pretending to build whatever they want, just outside.
Outdoor Art Fest
This outdoor party idea is as easy as getting out some chalk, some finger paint, hanging some canvas on fences and trees, and letting kids go Picasso in your backyard (but make sure you use all washable inks and paints). Want to go the extra mile? Let kids decorate their own cupcakes for the birthday cake portion of the party.
Visit a Farm
An easier way to incorporate animals into your kid's birthday celebration without inviting a fur fest into your home is to find them in their own habitat — a local farm or petting zoo. It's usually as easy as searching "farm near me" to find a local farmer who regularly opens their gates to visitors and making a quick phone call to arrange a birthday visit. The kids will get to see a farm in action, see where their food comes from, and pet a few furry friends in the process.
#Sports
Have a wannabe athlete on your hands? Have party-goers dress up in a jersey from their favorite team, set up a Little Tikes basketball hoop, a soccer pitch, and whatever other sports gear you have lying about, and let the kids go crazy and play the outdoor games they're most familiar with. We'll leave it up to you whether everyone gets a medal at the end of the day or not.
Create Your Own Carnival
Who doesn't want to get their face painted and eat cotton candy? Setting up a few yard games, queuing up some fun music, having a couple of carnival classics like hot dogs and funnel cakes, and finding someone who wants to paint faces for a few hours is all you need to pull this one off.
Day at the "Beach"
Take a trip to the local beach — whether it's a lake or the ocean. Not near any natural stretches of sand and accompanying water? Set up a kiddie pool, a slip n' slide, and make a "beach" by throwing some sand (you can buy it from your local hardware store) down on a tarp. Have a sandcastle-building contest and an ice cream stand to keep kids entertained with the all-important "loose structure" that toddlers need.
This article was originally published on