Dad James Bond Is Exactly What the 007 Movies Desperately Need
In Daniel Craig's last 007 flick, it seems very possible that Bond will be shaken and stirred by fatherhood. This is the game-changer the franchise has been avoiding for almost 60 years.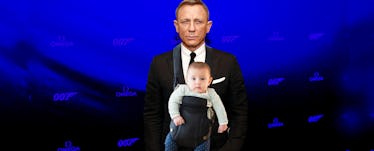 According to a bit of (possibly incorrect) intelligence, the latest scoop on the long-awaited 2020 James Bond movie — No Time To Die — is centered on the formula of 007 changing forever. If one rumor is to be believed, the new film will depict James Bond tackling the craziest caper of his career: fatherhood. If true, the 007 franchise could very possibly reconnect with arguably, its biggest fanbase — fathers.
Over the weekend, The Sun and other British tabloids reported that "Yes, it's true. Bond is a dad." This report was later republished in The New York Post. While none of these papers are ironclad sources worthy of MI-6, there's a good reason to believe, and hope, that this particular rumor is true. Most of James Bond's biggest fans are dads and the one thing standing between dads really connecting to Bond is his apparent lack of parental responsibility.
At a glance, the defining quality of James Bond is that he's unattached. Emotionally, Bond's detachment allows him to hop beds as quickly as he moves on to new spy missions. And yet, any real man knows that the fantasy of James Bond is also a little bit of a joke: In real life, nobody sane over the age of 30 would actually admire a womanizing, hard-drinking assassin, even if he did have an awesome car. Whether he's played by Sean Connery or Daniel Craig, Bond's charming wit helps to cut the bitterness of the violent cocktail of his life, but again, it's not like dads reflect on wanting to actually be more like Bond. 007 doesn't have a family to protect, making his heroism somewhat abstract.
This is great for 90 minutes or so, but generally speaking, James Bond is an outdated hero, seemingly on purpose. Yes, Judi Dench called Bond a "sexist" in 1995, and, during the Daniel Craig era, we've seen the character grow-up a little bit. In fact, in exactly half of Daniel Craig's four Bond film, the famously non-committal 007 has fallen in love, seemingly for real each time. The first time, with Vesper Lyn (Eva Green), was kind of a given. Casino Royale (2006) is, at least emotionally, a pretty faithful adaptation of the original Ian Fleming novel, in which Bond falls in love with Vesper, and then, after learning she was a double-agent, becomes the cold-hearted jerk we all know and tolerate.
In Spectre (2015), Bond again, fell in love, this time with Madeline Swan (Léa Seydoux), and now, in No Time To Die, Madeline Swan will return. This is kind of a big deal. Other than the character of Moneypenny (originated by Lois Maxwell, more recently played brilliantly by Naomie Harris), the women who Bond flirts with or sleeps with, never return for sequels. In On Her Majesty's Secret Service (1969) Bond (George Lazenby) married Tracy (Diana Rigg), but, in the final scene of the movie, Tracy was brutally shot. Though several Bond movies have referenced the death of Tracy through the Roger Moore era, there's almost a casual dismissal of the events of this movie within the movie itself — at the very beginning, before "rescuing" Tracy from a Virginia Woolf-style suicide, James Bond turned to the camera and said, "This never happened to the other fellow." By 1971, in Diamonds Are Forever, Bond was back on his bullshit. Sure, he was kind of avenging the death of his wife, but that kind of plot device is exactly something that feels fun for very long. Imagine Hawkeye from the Avengers continuing on his murderous rampage for several films, and if you squint, that's kind of what Bond was like after On Her Majesty's Secret Service.
After a few decades, and several different Bonds, Daniel Craig landed somewhere between Woke Bond and Old-School Bond. And, if the franchise has the balls to actually make James Bond a dad in No Time To Die, it would be the smartest possible way the producers could end Daniel Craig's tenure as Bond. To paraphrase Michael Caine — James Bond in the books is frequently thinking about settling down and having a family, not a lot of people know that.
This, more than anything, is why the Bond of the novels is a little more realistic than his cinematic counterpart. He actually reflects on what he's doing, and occasionally (especially in the last chapters of Moonraker and Casino Royale) thinks about leaving his secret agent job and settling down. We already know the opening moments of No Time To Die will reflect this concept, and that something will happen to bring Bond back for one last mission. Having Bond settle down with Madeline Swan, in the end, would be cool, but for the character to really grow, and connect with the audience, he has to grow-up. Hell, even Captain Kirk and Han Solo became fathers.
In some ways, the Bond franchise owes it to dads everywhere to show a little solidarity with parents. If Bond's lifestyle is an escapist fantasy for parents, then perhaps our boring lives should be his fantasy. It never happened to the other fellows, but fatherhood happens to the rest of us, every day.