'No Time to Die' Review: A Massive James Bond Game Changer
No time for spoilers! Without revealing anything huge in the movie, here's why you have to see it.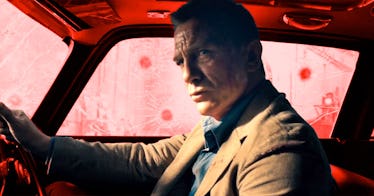 Universal Pictures
The last Daniel Craig James Bond movie is a paradox. It's both too long and not long enough. It's deeply emotional, and yet, somehow detached. It's retro Bond. It's progressive Bond. It's utterly daring and a tiny bit cautious. It's outdated, timely, jokey and hokey, fresh and staid. It closes a door and opens another door, and kind of leaves the door half-open, too. In other words — No Time to Die — is perfectly imperfect and nobody will be able to agree on just what to make of it. Here's why Bond fans and casual viewers alike, will need to see this movie.
Only mild spoilers ahead. No major plot points from No Time to Die are revealed below.
Directed and co-written by Cary Fukunaga, No Time to Die doesn't feel like a traditional Bond movie. Even the opening tells us something that has happened in the distant past, rather than something coming in the future. Yes, as the trailers suggest, Bond (Daniel Craig) and psychologist lady love Madeleine Swann (Léa Seydoux) – last seen in Spectre — do go on vacation in Italy, and yes, the past – of course — catches up with them. There's the wistful specter of Vesper Lynd (Bond's previous great love, played by Eva Green in Casino Royale) and the harsh reality of Spectre, who've tracked down Swann and the supposedly off-the-grid Bond. James blames Madeleine for Spectre's attack, believing she's betrayed him, and he goes further off the grid. Again, that's all more or less in the trailers, so if you love off-the-grid Bond (which tends to happen in all the Daniel Craig movies) you'll love this.
Of course, 007 can't stay away for long. How can he? Not when his old CIA pal, Felix Leiter (Jeffrey Wright) comes a-ringing. Not when the fate of the world hangs in the balance. Cue all the elements Bond fans love: massive car and motorcycle chases, brutal hand-to-hand fights, interactions with the MI6 team, including M (Ralph Fiennes), Moneypenny (Naomie Harris), and Q (Ben Wishaw), a request for a martini, shaken, not stirred, a pivotal appearance by 007's iconic Aston Martin DB5, inventive gadgets, and so on. In the age of The Avengers, it's a very low-tech affair, even a throwback. But for the Craig era, this is more sci-fi gadgetry than we've seen in 15 years.
So what's new? Well, there's a freshly minted "007," Lashana Lynch's Nomi, taking over the secret agent number from Bond. If this seems sacrilegious, in the Anthony Horowitz prequel novel Forever and a Day — authorized by the Ian Fleming estate back in 2018 — it was revealed Bond himself took over the number "007" from another agent. So, if anyone freaks out that Bond is the only person that can have that number, they're dead wrong. Bond is also joined by a deceptively green agent named Paloma, played by Daniel Craig's wonderful Knives Out co-star, Ana de Armas. And, overall, Bond is, by turns, more sensitive, carefree, loving, and angry than we've seen him before as he deals with a changing world and his shifting place in it.
It's that mix of old and new that makes No Time To Die fly high and falter a bit. Director Fukunaga knows how to deliver a big movie. Everything is staged well and most of the performances are stellar, especially Craig, who finally gets to present Bond as a full-fledged human (though purists may prefer the previous killing-machine iterations of the character). Linus Sangren, the cinematographer, crafts gorgeous shot after gorgeous shot (and the scenes filmed with IMAX cameras are doubly stunning). Rami Malek's Phantom of the Opera-esque baddie —Safin — makes a great first impression and there's some genuine menace in a late-movie scene involving him. But he's not the greatest Bond villain. At all. We've met that villain, visited that secluded island, and watched that extended, breathless race-the-clock effort to save the day in many of the previous 24 Bond installments. It's also a quandary when the villain from a previous film — Christoph Waltz as Blofeld — pops up for a few minutes and leaves a more indelible impression on the audience, with his Hannibal Lecter-esque turn, than the "new" villain.
Interestingly, De Armas steals the show in her few minutes on screen, especially in an ass-kicking, pirouetting, guns-a-blazing sequence, and she deserves a spin-off movie of her own. Lynch delivers a solid 007, though it remains to be seen if the character – underwritten here to keep the spotlight on Bond – will carry her own movie. Seydoux is solid, though we still miss Eva Green as much as Bond does.
Fukunaga and his co-writers try mightily to thread the needle between nostalgia and moving the Bond franchise forward, and they largely succeed. There are also two VERY BIG story reveals that we're leaving out of this review, and you'll know them when you see them. Let's just say these story points are, as Sean Connery's Bond once said dryly: "Shocking. Positively shocking."
This Bond film is a huge game-changer for the character and the franchise, and it could alter the way many men who see themselves in Bond will see themselves now. Even with its flaws — chief among them, the 2-hour, 43-minute running time feels long — No Time To Die delivers the goods. It's thrilling and uplifting and fun. It shines a spotlight on a Bond for our times, putting a colorful bow on Craig's 15-year era as 007, giving us several heroic female characters, and finally, inducing fans to smile at the film's post-credits promise: James Bond Will Return.
No Time To Die is out now in the UK and will hit theaters in the US on October 8, 2021. A streaming date for the film has yet to be released.
This article was originally published on