Bond Who? Spin-Off 007 Movie Without James Bond Is Now Possible
Lashana Lynch is the new 007. But will she get her own movie?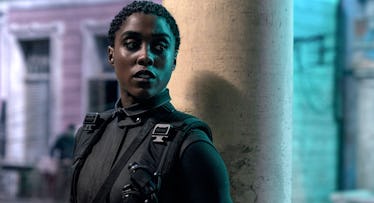 Credit: MGM/EON
The buzz started more than a year ago. Lashana Lynch is the new 007! But will she get her own spin-off movie? As No Time To Die finally hits theaters, should we all expect Lynch to begin starring in James Bond spinoff movies, without James Bond? Let's dig in.
Massive Spoilers ahead.
Is Nomi the new 007?
With James Bond (Daniel Craig) off the grid and perhaps even dead, Nomi receives the coveted 007 designation. As events unfold in the film, Nomi and Bond make each other's acquaintance and then must work together. They trade quips and barbs – including variations of "It's just a number"—and eventually after Bond returns to MI6 and earns Nomi's trust and respect, she requests that Bond's 007 status be restored, a request that is granted. As the credits roll on No Time To Die, Bond is dead, Nomi is still with MI6, and there's technically no 007.
Will Lashana Lynch Get Her Own Bond Spinoff?
As for the possibility of a Nomi spin-off? Now, that's the real question. Lynch – a 33-year-old Brit best known to American audiences for her role as Maria Rambeau (Monica's mom) in Captain Marvel — more than holds her own opposite the veteran Craig in No Time To Die. She delivers her lines crisply, kicks butt effortlessly, looks convincing holding weapons, and seems at ease sporting sleek sunglasses, driving a fancy car, and piloting a wing glider/submersible. Her Nomi is smart, fearless, lethal, and more.
What's not clear is this: Did the studios hire Lynch with spin-offs in mind for her? Were the writers on No Time To Die planting seeds for the adventures of Nomi? We may or may not ever know for sure. And even if they did, will new Bond studio Amazon take that leap of faith?
We've been down this road before. Halle Berry in Die Another Day made a memorable entrance as Jinx, surfacing from the ocean in an orange bikini as Bond (Pierce Brosnan) watches through a pair of binoculars. At that time, in 2002, Berry had starred in the blockbuster, X-Men, and won an Oscar for Monster's Ball. She was as big a star as Brosnan. Everyone expected Berry to front a Jinx spin-off, but it didn't happen. The reasons (and excuses) are many. Some might say Catwoman is to blame. It also seems like that style of James Bond movie was shelved, in favor of the era that replaced it, the Daniel Craig era. (Though, Judi Dench carried over from Brosnan films into the Craig films, why not Berry?)
It's a different day, a different world now. But in some ways, Lynch is in the same spot Barry was almost twenty years ago. The difference is, the ending of this film leaves more room in the Bond universe for Nomi to exist outside of his shadow. So, will there be a Nomi spin-off? It might never happen or it could be announced days after No Time To Die's release. We have all the time in the world to wait.
No Time to Die is out in theaters now.