Movie Theaters Will Start Reopening In March — Here's What That Means
A sign for the rest of the country?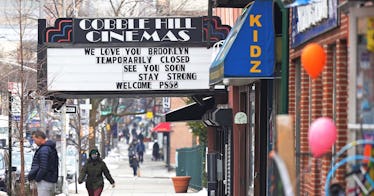 Getty
Hollywood is rejoicing about the big news out of the Big Apple. Movie theaters in New York City, closed for nearly a year due to COVID-19, will be allowed to re-open on March 5, albeit with stringent restrictions in place. New York Governor Andrew Cuomo made the announcement on Monday, citing steadily dropping coronavirus numbers as the reason for this next step toward restoring Manhattan to something resembling normal. Movie theater doors won't be swinging wide open, however. Theaters will be limited to 25 percent capacity or no more than 50 people at a time in a single auditorium. Further, assigned seating, masks (even for those who've received a vaccine), and advanced air filtration will be required.
"Theater owners are pleased with the announcement that New York City movie theaters will be allowed to safely reopen," the National Association of Theatre Owners (NATO) said in a statement. "Stringent voluntary health and safety protocols have made it possible for cinemas across the country to operate safely and responsibly at higher capacity limits for many months without a single outbreak of COVID-19 being traced to movie theaters. New York City is a major market for moviegoing in the U.S.; reopening there gives confidence to film distributors in setting and holding their theatrical release dates, and is an important step in the recovery of the entire industry. We look forward to expanding the capacity from 25 percent to 50 percent in the very near future so that theaters can operate profitably."To put the news in context, New York City is one of the country's largest moviegoing markets – accounting for 7.4% of total U.S. box office as recently as 2019 — and it was one of the hardest-hit areas at the outset of the pandemic. Simply stated, if it recovers, that bodes well for the rest of the country, and the movie exhibition business as a whole. Right now, the numbers are terrible. The Croods: A New Age, which opened in November 2020, topped the box office charts by grossing $1.7 million nationwide this past weekend. Things can only get better. They have to get better for everyone: theater owners, studios, actors, filmmakers, and their crews, ushers, the staff manning the refreshment counter, etc.What films stand to benefit from the partial reopening of theaters in Manhattan? Well, The Croods: A New Age will likely still be playing, as will likely Oscar contender Judas and the Black Messiah, The Little Things, and the animated family film, Tom & Jerry, which Warner Bros. will release on February 26 (both in cinemas and on HBO Max). Then there's Raya and the Last Dragon, another animated family feature, which Disney will deliver to theaters on March 5, while also making it available for streaming (at $30) on Disney+.A lot of eyes will be on New York City as it reopens theaters. Again, if it's successful, other cities will follow suit. And if enough theaters open again, and enough moviegoers venture out, maybe we'll finally get to see the likes of Black Widow and No Time to Die up on the big screen.