A Dog Named Loki? Here Are The Most Popular Marvel-Inspired Pet Names
What are the most popular Marvel-inspired pet names?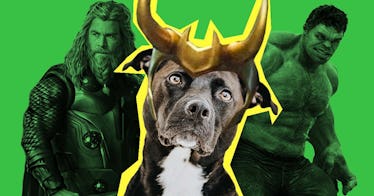 Disney
Somewhere, Stan Lee is smiling, and that's because cat and dog owners across the country are naming their beloved pets after the late Marvel Comics icon's superheroes and super-villains. Embrace Pet Insurance, seizing the moment with Loki set to premiere June 9 on Disney+, shared some amusing, Marvel-ous intel about the monikers of their clients' animals.
According to a survey conducted by the company, the most popular Marvel-inspired pet name is… Loki. The pet insurance company claims they insure more than 800 pets who answer to Loki. Second, on the list is… Thor, with almost 500 four-legged creatures named after the god of thunder and lightning. And coming in third is… Groot. Completing the list, in order, are Stark, Hulk, Thanos, Wanda, Gamora, Hawkeye and Falcon. Here's the full list of the most popular Marvel pet names.
Loki
Thor
Groot
Stark
Hulk
Thanos
Wanda
Gamora
Hawkeye
Falcon
(It's shocking that dogs named "Bucky" are not on this list. Also, equally interesting is that apparently "Goose" the cat from Captain Marvel and inspired by Top Gun didn't make the list either)
Embrace continued to, well, embrace their unofficial Marvel-inspired study. According to them, the top 10 most common pet breeds named Loki are, in order: Mixed-breed dog, mixed breed cat, Siberian husky, German shepherd, Labrador mix, golden retriever, Labrador retriever, French bulldog, Australian shepherd, and Yorkshire terrier.
No word, however, on how mischievous all those barking and meowing Loki's might be!
All joking aside, we really do believe Lee would be pleased. Near the end of his life, Lee owned a sweet, fluffy dog named Charlotte. The white mini Pomeranian went missing in early 2018, only to be found soon after by NFL Hall of Famer James Brown and his wife in their yard, and returned to Lee, who lived about a mile away. Lee went on to make his final Marvel movie cameo in Avengers: Endgame, which opened in March of 2019, a few months after Lee's death. In that film, Charlotte got a shout-out, too. In a cool, amusing Endgame Easter egg, the name engraved directly under Scott Lang's on the Wall of the Vanished is… Charlotte Lee.
So, presumably, when Tony undid the Thanos snap in Endgame, he also brought Stan Lee's dog back, too.
Loki hits Disney+ on Wednesday, June 9.
This article was originally published on