All the Best May the 4th Gear That Isn't For Nerf Herders
Here's some legit swag for Star Wars day that won't send you to the groan-side of the Force.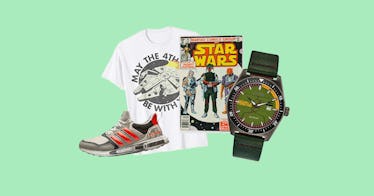 Look, we get it. You've been from one side of this galaxy to the other, and you've never seen anything that made you believe that Star Wars Day only came once a year. You're the kind of person who thinks Star Wars Day should be celebrated on May 25, the day the first film hit theaters. Or maybe you think it should be celebrated on November 12, the day the first Star Wars book was published in 1976 before the movie hit theaters six months later. Hell, why not May 14, George Lucas' birthday? But it's May the 4th — mostly because it's a solid, puntastic dad joke. It may not make sense, but the joke has it where it counts. (Or does it?)
Anyway… The real purpose of May the 4th is to get people to buy stuff. Let's be honest. That's it. Since the inception of Star Wars, George Lucas has wanted you to buy Star Wars stuff. This isn't an exaggeration. Lucas pioneered movie merchandising deals and made an art form out of us all wanting Star Wars stuff even before we could get our hands on it. Several times in history, wanting Star Wars junk but not being able to get it has created intense Force-FOMO. It happened in 1977. It happened in 1999 with the toys for The Phantom Menace. And in late 2019, we all lost our minds when we couldn't get a Baby Yoda anything.
But right now, other than super-expensive R2-D2 Lego sets, you can pretty much get whatever Star wars junk you want. So, if you're indulging in some May the 4th retail therapy, what should you actually buy? Here's some actual, legit cool Star Wars stuff that isn't scruffy-looking or corny bantha poodoo. We're talking about the good stuff, now. No mind tricks.
Every product on Fatherly is independently selected by our editors, writers, and experts. If you click a link on our site and buy something, we may earn an affiliate commission.