Max Greenfield on Homeschooling and Nutritional Subterfuge
The 'Neighborhood' star talks sneaking his kid veggie burgers and taking on the role of de facto educator amid a pandemic.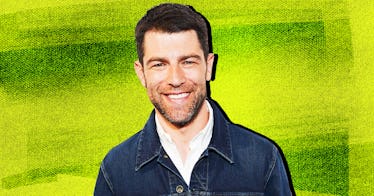 To most people, Max Greenfield is Schmidt on the cult-classic sitcom New Girl. But relegating him to the single role (even if it was maybe the funniest character on the long-running sitcom) obscures his mega-talent, mega-niceness, and ultimately, mega-comedic chops.
Right now, the veteran comedic actor is starring in the new sitcom The Neighborhood, Roger in The Ice Age franchise, appearing in the new Series of Unfortunate Events, and starring in the recently released Promising Young Woman. He's also a busy, married dad-of-two with wife and casting director Tess Sanchez, and, since the pandemic hit, like most American parents, has been out of work. So, it naturally fell on him to oversee remote learning for his 10-year-old daughter, Lily.
What grew out of those schooling sessions — which Greenfield himself refers to as a "worst case scenario" over the phone — was a series of deeply hilarious and relatable Instagram videos that turned Lily into a viral comedy star (in my humble opinion, at least) and created a community of suffering around the new "normal," parents somehow becoming educators, and the kitchen table becoming the workspace. Here, Greenfield catches up with Fatherly to talk about those infamous videos, cooking fatigue in quarantine, and what he's learned about parenting in quarantine (hint: not that much.)
So, I follow you on Instagram. A few months ago, I became kind of enthralled with your videos of you homeschooling your daughter. Mostly because they felt extremely relatable but also because your daughter has impeccable comedic timing. What brought those videos to the world? How has homeschooling been for you?
Max Greenfield: I was never that big on social media before this. But everything happened so fast, specifically, that week before we all shut down. First it was like, oh, this could be bad. Then by Wednesday, we're like, we're pretty sure this is bad. By Sunday, everything was shut down.
We were right in it, [immediately doing homeschooling,] and I was really overwhelmed. I was totally scared. We sat down to do this. I was like, worst case scenario, you have me as your teacher. And, then I thought, I can't be the only one feeling that, right?
Right.
So then it was like, well, maybe we should really have some fun. So we would film videos when we have a break in our day, in between studying. We'd make a video if we had a really funny idea. And it became a fun thing. I think, you know, Lily was really excited about it, and it made that time kind of fun and exciting, not only for myself and Lily, but a lot of other people were watching them and feeling that we're all going through the same thing and probably not feel so alone.
How did it feel to be stepping in as the teacher?
My wife has a full career. She doesn't take my job seriously at all. And I was off — and so she was working remotely, she went right into Zoom meetings. So, it just fell squarely on me.
Do you cook for your kids often? I did see you recently created an award-winning veggie burger recipe. So, do the kids like your food?
I've gotten way better at cooking in quarantine. I've expanded my repertoire of dishes. But I will say, the Lightlife Burger Showdown, was, I have to say, such a cool thing that they did. I was so happy and excited to be a part of it. We, people like myself, got paired with different restaurants across the nation. I got Busy Burger in Chicago, and me and the chef got to sit down and talk over Zoom and discuss what type of burger we were going to make for this competition. All the proceeds went to Feeding America and the restaurant industry. In a time when there's an industry that has been hit so deeply hard by all of this, I just thought it was the coolest idea.
LightLife had sent me some of their plant-based burgers. My wife and I don't eat meat. We haven't in like three years. But we were not totally familiar with LightLife in general – we had a couple of different plant based burgers, or non-meat, like Beyond. So, they sent us all these products, and, first of all, it's unbelievable. I serve them to my kids, and my wife and I eat them all the time, and I haven't told my kids that it's not, like, real meat.
Right.
If you tell them – hey, why don't you try this thing? They'll just say no, out of spite, they'll say they don't like it. So they've been eating these burgers for the better part of a month now, and they have no idea. It's the greatest. You try to get protein to these kids any way you can.
Do you have any other Greatest Hits that you've been perfecting in quarantine?
That was the big surprise for us. My wife and I do go to the farmers market on Sundays, and we stock up on veggies and we'll just grill veggies and put them all together with a little olive oil and sea salt and a mountain of cheese on it and just… eat vegetables.
That sounds really good. Also, just hearing about other people's food and what they cooked, instead of my own cooking, sounds good. I'm so tired of cooking. I'm so tired of my cooking.
I'm so tired of all of the dishes I know how to make.
Is there something you had wished you had known about parenting, or becoming a parent, sooner?
I don't know. I think part of being a parent is the discovery of it all. And enjoying that process, and accepting the process of discovering it. You're learning about the kids you're learning about yourself and the kids are growing, and you're growing, and it's all part of it. If I were to know anything, it spoils it, to a degree.
My daughter is 10 now. I would have liked to have a heads up on how messy she can be. It's, like, unbelievable. The last conversation we had with my daughter was, "Let's think about what an area looks like before we go into it, and if we're leaving it in the same state, that, you know, as when we entered it. Is it a disaster now, as opposed to before, when you came in?" It's just, like, oh my God. It's as if she doesn't see the mess.
So, how are you discussing masks, COVID, being at home? The protests? What are those discussions like and how are they working for you?
Well with Lily, who's 10, we were very open and really trying to have a full conversation about COVID. I feel like adults are learning at the same rate as a 10-year-old about this. I'm like, "I'll tell you everything that I know, but it's not that much." Like, that one's not that complicated. With my son, who's almost five, it's just a constant sort of, "We can't do that because there's germs outside." He has a list of things he wants to do when the germs go away and we've said yes to all of that.
That's still been a relatively easy conversation. And much to my children's credit, they've been really resilient during this time.
With Black Lives Matter, it's been a real education process for my daughter. My son is not in a place where he can comprehend any of it. But we do have conversations about empathy, and about fully embracing history. It's been a long conversation.
I think it's been super emotional for us as parents. You're really trying to ingrain it into your children, and they're giving you their responses like, "Yeah, I got it." I think it's easy to relay the information, but it's hard to relay the stakes.
What's been for you like the most revelatory, or interesting thing, you've come to understand since March, basically, since we all took to our homes for eternity?
[laughs] I don't know. I think I'll be able to answer that, you know, in 10 years.
Yeah, that's fair.
Right now, we're on a day by day basis. If I get to like, lay in bed and watch a show with my wife and nobody's totally lost it, I'm a winner. We can revisit the rest of it in a decade.
Right. Okay. I'll call you then.
Okay, great.
This article was originally published on