Map That Shows Every State's Favorite '90s Movie Has Shocking Surprises
One Disney classic dominated the competition.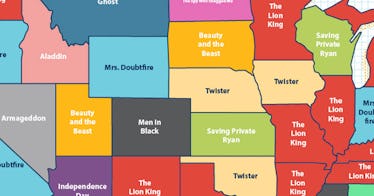 Frontier Bundle
Simba is the King of Pride Rock, but he's apparently also the King of '90s movies, as a map of the favorite movie from the final decade of the 20th Century shows that Forrest Gump, Mrs. Doubtfire, and all other '90s icons can't compete with The Lion King.
The map was created by Frontier Bundles, who looked at the search volume for the 20 highest-grossing films* from the 1990s of all 50 states over the past year to determine the winner in each state.
The Lion King absolutely annihilated the competition, as it was the most popular film in a whopping 18 states, which is more than the next three options combined. After The Lion King, Mrs. Doubtfire and Ghost tied with five states apiece, followed by Independence Day being the top choice in four states.
There were a few movies that had popularity based in very specific regions, such as Twister being chosen as the favorite in Nebraska, Iowa, and Oklahoma, three states that border the Tornado Alley region. Similarly, Forrest Gump was the top choice in Louisiana, Georgia, and South Carolina, which makes sense given that the Oscar-winning movie is heavily set in the south.
Aladdin, Armageddon, and Saving Private Ryan were among the movies that were the most popular in two states and there were also a few unexpected movies that managed to be most popular in a single state. Most notably, Austin Powers: The Spy Who Shagged Me was the most searched in North Dakota, as the state's residents apparently believe that the sequel is when that franchise really hit its stride.
My only real complaint? While the '90s was a fantastic decade for movies and there were so many great options, how did not a single state choose Jurassic Park? It's dinosaurs and Jeff Goldblum, what more could you possibly want?