Keep Watching! 'Loki' Episode 4 Secret Post-Credits Scene Has a Massive Twist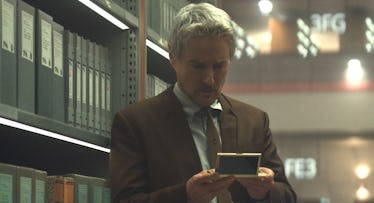 Mobius (Owen Wilson) in Marvel Studios' LOKI, exclusively on Disney+. Photo courtesy of Marvel Studios. ©Marvel Studios 2021. All Rights Reserved.
The cliffhanger ending of Loki episode 4 is so good, you'll probably throw up your hands in frustration, and not even bother to watch the beautiful and haunting credits. Why would you want to see all these grainy photos of Loki and Sylvie when all you want to do is desperately make Disney+ release episode five immediately? But, if you turn off the show during the credits, you're going to miss a very big twist.
If you haven't seen the episode yet, or if you watched it, and you made the mistake of turning it off as soon as the credits started rolling, heads-up, we're gonna take about the twist in the post-credits scene in a second here. So if you haven't seen it yet, go watch it. Seriously. Spoilers ahead.
We're gonna drop a picture of Miss Minutes here for a second just in case you didn't get it. Spoilers after this image!
So, after that stunning twist in which Loki is seemingly killed by Ravonna Renslayer, and Sylvie is demanding answers about why the Time-Keepers are total posers, we cut to the credits. But then, after the credits, it turns out LOKI IS ALIVE!
He asks "Am I dead? Is this hell?" But it's not! Turns out, there are three other Lokis waiting for him (four if you count the Alligator!) And one of them is a little kid! (Turns out the other kid Loki from the trailers was actually Sylvie as a young girl.)
So, who are these Loki Variants? Actor Richard E. Grant (the old guy on the right) is decked-out in a costume that is very close to how Loki appeared in older comics. Jack Veal is playing the new kid Loki, and Hammer Loki (we just made that up) is played by Deobai Oparei. Why does that Loki have a hammer? Is that Thor's hammer, or a knock-off Mjollnir?
There are two episodes of Loki left, and it looks like once we dig into those, we'll almost certainly find out who all these other Lokis are! Hopefully the alligator talks.
Loki has two episodes left on Disney+, which air on July 7 and July 14.
This article was originally published on