From 'Cobra Kai' to 'Tiger King' — Netflix Moments Recreated with Lego
Your favorite Netflix shows have gotten a Lego makeover.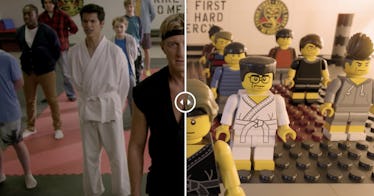 TheToyZone
We are living in the Golden Era of television and no channel or streaming service has been more synonymous with 21st Century TV than Netflix. And as a celebration of the streaming service's commitment to quality content, The Toy Zone recreated scenes from eight beloved Netflix series.
The Toy Zone recreated screen grabs from The Queen's Gambit, Tiger King, The Crown, The Witcher, Russian Doll, Bridgerton, Chilling Adventures of Sabrina, and Cobra Kai using just Legos and even shared how many bricks were used for each one, along with the number of different types of bricks and the total cost. They then showed how the recreated scenes matched up with the real scenes and you've got to applaud the Toy Zone team's attention to detail because they are all spot-on.
The Queen's Gambit was by far the simplest of the Lego creations, as the showdown between Beth Harmon and Benny Watts required only 19 types of bricks and 214 total bricks. But while its $76 price tag was certainly on the cheaper side, it was beat out by the mirror bathroom scene from Russian Doll, which was assembled for only $53.04.
If you were hoping to recreate the Olivia Colman as Queen Elizabeth II on horseback from The Crown, you are going to need to be willing to empty out your piggy bank. The elaborate scene cost almost a thousand dollars ($989.79, to be exact) to put together and also had the most total bricks (2921). However, if you are satisfied with not having an entire building in the background, you could likely make your own version for a lot cheaper and fewer bricks.
You can check out all eight of The Toy Zone's Netflix recreations here and they can even help you start planning your own Lego project, assuming these scenes fall within the confines of your budget.