Kid Stand-Up Comedians Tell Parents How to Really Make Kids Laugh
These kid stand-ups are wise beyond their years.
by Alicia Kort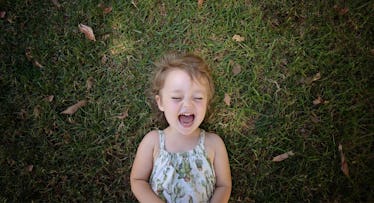 If you imagine a comedy club for kids, you'd probably imagine 11-year-olds stand-ups telling a lot of fart jokes. This is not at all the case at the only comedy club for kids in New York City, Kids 'N Comedy. Once a month, the comedians take the stage at the Gotham Comedy Club and deliver short sets full of hilarious—and family-friendly—jokes that somehow appeal to both kids and parents. This is such a rare feat that it seems like this intergenerational humor is only seen on the big screen a couple times a year when Disney and DreamWorks release their movies for families.
But the teenage comedians at Kids 'N Comedy have somehow cracked the code. There are usually less than 10 comedians at one show. Parents and kids sit together around the same tables adults will sit at hours later, watching some of New York City's more R-rated comedians.
Most of these adolescent stand-ups have been doing comedy for years. They're seasoned pros. They've got their timing down and have the confidence of stand-up veterans. Comedian Julian Gerber has been doing stand-up for four years since seventh grade.
"I try to make jokes relatable to me," Julian Gerber says. "I'm at a weird age. I could appeal to both adults and kids with my jokes."
Teens are much more observational than adults typically give them credit for. These young comedians still vividly remember what they liked as younger kids and are on the cusp of becoming adults, which gives them a unique perspective.
"Being young lets you look at the world in a semi-sarcastic way," Spencer Kahn says. Kahn closed out his set with a joke about the Walkman and how the name of the media player makes no sense. The parents in the audience might have cringed and had a brief existential crisis over this joke, but they took it in stride.
These stand-ups lightly roasted parents, school, college admissions, Disney movies, sports and, of course, Trump. There were no fart jokes to be found.
Sammy Feinstein mixed pop culture and politics together, joking that Trump wouldn't let E.T. into the country with a spot-on Trump impression.
"Timing is everything," Kayla Maccannon said, "I think it's as important as your material. If you rush through something, people might not pick it up."
Maccannon is newer to the Kids 'N Comedy program, which in addition to delivering comedy to kids and parents, teaches kids how to do stand-up. Her joke about how her mother called her over and over while was trick-or-treating worried that she had been kidnapped. Although this seems like a very real fear to parents, she reminds parents that sometimes they're being a little too ridiculous.
"She called four times in two minutes," Maccannon adds. "You can't make this up. Life is pretty funny."
Teens don't have a whole lot of opportunities to practice their jokes outside of Kids 'N Comedy and the classroom. Avery Lender has been doing stand-up since seventh grade, and now she's a senior applying to colleges.
Many of the comedy clubs in New York City won't let you in, let alone perform if you are under the age of 18 or 21. Lender has tried to do stand-up at other clubs, but only a few have let her perform.
"Kids 'N Comedy gives me a place to do comedy," Lender says, "It's an inviting environment."
This inviting environment might not be there when you're trying to make your kids laugh in your living room, but comedian Mark Timanovsky has some great advice.
"You have to say things as one kid to another kid," Timanovsky says. "They have to be able to empathize. They also won't laugh at another kid. You have to make the kids feel older than they actually are."
Basically, don't underestimate how smart your kid is when it comes to humor and don't be afraid to laugh at yourself. Maybe stay away from the dad jokes, though.
Check out more at Kids 'N Comedy right here.
This article was originally published on