Keanu Reeves' Favorite Movies Are F*cking Awesome
Here's where you can stream them all right now.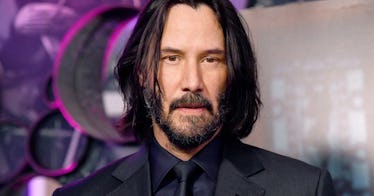 GETTY
Keanu Reeves is the rare person in Hollywood who seems legitimately cooler than the people he plays onscreen. Whether he is giving up his seat on the subway or passing up millions of dollars so crew members could keep their jobs, he just seems to be a genuinely righteous dude who embodies Bill & Ted's ethos of "be excellent to each other and party on, dudes."
And if all of that wasn't enough, it turns out Reeves also has totally awesome taste in movies as well. During an interview with Esquire, the Point Break star revealed a list of his favorite movies that he put together for his friend and Matrix co-star Carrie-Ann Moss. And this wasn't just a list of a few movies he thought of off the top of his head, it's a curated collection that he even took the time to update. He shared the list with the publication and, thankfully, they shared it with all of us.
Here is the official list, along with links of where you can stream or rent them all right now:
Reeves' recommendations did not disappoint, as it is exactly the type of well-curated list you would expect from him. There is a solid mix of genres, along with a sprinkling of undisputed classics and a few personal favorites.
So cancel any weekend plans you had and start planning your Reeves' recommended movie marathon now. Maybe even toss in a few of Reeves' own movies in there for good measure because you can never go wrong watching Speed or Johnny Mnemonic or whatever your favorite of his extensive filmography happens to be.