Jennifer Garner Is Teaching Us the Pain of Saying "Yes" To Our Kids
"I think a lot of moms are going to be coming back to the world hanging on by their fingernails."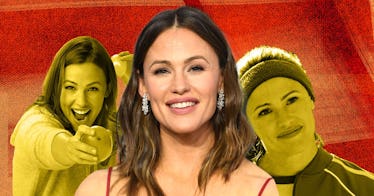 Getty/Netflix
Jennifer Garner isn't here to lecture you about pandemic parenting or impart little nuggets of hard-earned wisdom gleaned from being stuck mostly indoors with her three kids since last spring. Before she, like so many parents, began moonlighting as a personal chef, dietician, and math teacher, she generally limited screen time to "only the weekends." That was then. This is — survival.
"We eat dinner together every night. And then the kids quickly help me with the dishes. Like, as fast as anything you can ever imagine — I'm not even sure how rinsed they get, but I just try not to micromanage. And then we sit down and watch the Office," says Garner, the mom of Violet, 15, Sera, 12, and Sam, 9. "We watch two episodes of the Office every night of the week. And we all sit on the couch and it is great. Now we've been through it twice. They want to start it again. So we'll probably just start it again."
Garner knows she's privileged — her nanny moved in with the family shortly after the world shut down. But she's also a working mom who worries about her kids going to back to school after a year of isolation. "Yes, it's going to be really interesting to see how it all plays out," she muses.
Her social media platforms feel like the digital equivalent of a warm hug (remember those?) and reflect her upbeat and approachable vibe. During this Zoom, she freshens up her makeup on camera because that's the world we live in now, one in which A-list stars get virtual beauty tutorials while quarantining before starting a new movie in Vancouver. "I am not a makeup genius. And I'm told that I have to give myself touch-ups since I did my own shtick," she says, nonplussed.
I just saw that kids in California are going back to school. How do you feel about it?
We are finally going to go back to school. And I'm worried for my kids. I think one of my kids is very nervous about going back — actually, my little guy. I'm worried what it'll be like for them emotionally, you know? They've been home for so long. Some kids will have separation issues that maybe they didn't have before, and they'll just have a different kind of anxiety, feeling that the world is dangerous or not knowing how to be around other kids. My little boy is just around girls all the time. It's just a little nerve-wracking.
The first time my son was indoors with another kid after being alone for months, he had no idea how to interact or talk to that other child. It was really strange to see them try to figure it out.
I think for most kids, once they do have that experience of being together, they'll bounce back, they're resilient. It'll be a defining moment in all of our lives, but it will have shifted something in them and they'll need a little more intervention and we just have to be watching out for each other's kids and for each other and for our kids and making sure we have our arms around the kids who really need it. And the moms.
I think a lot of moms are going to be coming back to the world hanging on by their fingernails. And for moms to feel that way, it has been too much. It's been cruel. It's when you read and think about what moms are going through. I mean, I have felt overwhelmed and my nanny moved in when this all first started.
What would you say to those moms who feel like they're barely keeping it together?What would I say to those moms? I don't always get it done. I really do believe we have to go gentle on ourselves. We can't expect the same amount from each other.
You're a working parent. What's the biggest challenge for you, doing it with three kids at home?The biggest challenge is just the fact of it. I have three individual people who each want to be my whole world and should be and are. And you can barely manage that when you're home full-time and focused on them, much less when you add a company that I care about so, so much and I'm so proud of, and then my real job, which is acting. There are a lot of competing voices for my time and it's really just making sure I have time scheduled with them, as lame as that sounds, to make sure that I have special time and one-on-one time, which I think is so important.In your Netflix comedy Yes Day, you let the kids dictate what they do for 24 hours. What made you want to bring the movie to fruition since it means being away from your children?
I pitched it, produced it, found the writer. I wanted to do this and chose to work. I need joy as a person. And I need joy coming at me. I need to put it out there. I felt like this was a chance to do it. And I think we did.
How structured are you in real life?
I'm pretty structured. I've just gotten to a kick of having a plan on Sunday morning and having a friend, family, meet us so that the kids had people to walk with. My eldest sleeps in and does homework or is in a debate tournament or whatever. She doesn't typically join for these — but you just need to get out of the house and you just need to see other people. So what's it going to look like and how are you going to do it the best you can?
One thing that I did that as my kids started to have a little bit of structure — I was blue at the top of the year. So I made this decision and I haven't even talked about it. I called it the girlfriend project. I started calling girlfriends that I wouldn't normally see and I just started saying, 'I'm coming to you and I've put it in my calendar as like.' I'm going to put Gregg Renfrew here. I'm going to put Judy Greer here. I just went to those people and went for a walk with them, with masks on. I just needed the connection. And I needed to connect to my ladies and I needed for me to be making the effort, not for it to be someone else.
You have been active with Save the Children for years and years. And you co-founded Once Upon a Farm. How do you figure out your day and make time for everything?
I was just saying to Mo, who's my assistant but my kids call her my nanny — I feel like we work inside a blender. Like later today, I'm on a committee at one of the kids' schools, and then I have a call with the school after that about something else. It's just a crazy blender and it all gets scheduled in. Today I did a quick Save the Children call. I did a sales call. I did a charity thing for the Roundabout Theater. And I'm selling another movie for Netflix. I've also done a couple of hours of Yes Day. I'm away from my kids so I can devote this kind of time.
Yes Day hits Netflix on March 12, 2021