Jeffrey Wright Becomes the First Black Batman Actor
Wright will provide the voice of Batman in a new HBO Max series of intentionally comedic audio podcast adventures.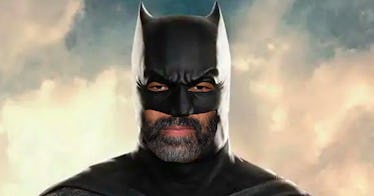 Warner Bros;Getty
This is not a misprint. While Jeffrey Wright set to star as Jim Gordon in the new Robert Pattinson film The Batman, the actor famous for his James Bond movies and Westworld roles is ALSO now officially, an actor who will play Batman! A new series of audio Batman stories called Batman: The Audio Adventures is coming soon from HBO Max. According to The Hollywood Reporter, the podcast show will be "a comedic take on the property that sees Jeffrey Wright lending his voice as the Caped Crusader."
The series is written by Saturday Night Live writer Dennis McNicholas and is thought to be a lighter take on the Caped Crusade. So, it seems like Wright will be a little more Adam West and a little less Christian Bale. Still, even though it's not a hardcore take, Wright's voice is perfect for Batman, and the fact that this casting hasn't happened sooner is actually a little shocking.
Black Batmen are scarce in the DC Comic book world. In 2011, DC introduced the character of "Batwing," whose secret identity is not Bruce Wayne, but instead, David Zavimbe. The concept at that point in the comics was that Batman had a franchise of other Batmen that did what he did but in other countries and cities.
Meanwhile, John Ridley, famous for writing 12 Years a Slave, has recently turned his attention toward writing a DC Comics featuring Black characters. His next comic book title is called Future State: Batman: The Next Batman, which imagines Batman as a Black man. Speaking to the LA Times in December 2020, Ridley said: "What is this person going through? What have they been gifted in life? What do they have to discover? What are the things they are fighting for or against — before they even put on that costume? And how does that inform the Batman that they are?"
So, around the same time, the character of Batman will become something more than a white hero. Which, if we're being honest, is insanely overdue.
Batman: The Audio Adventures will hit HBO Max sometime in 2021. No exact release date is set as of this writing.
Future State: The Next Batman will be published on June 15, 2021.