Javier Bardem Set For 'Lyle,Lyle Crocodile' Movie — But Is He the Crocodile?
This is no movie for old crocodiles!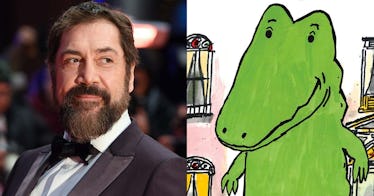 GETTY / HMH Books for Young Readers
Javier Bardem is an actor's actor and a genuine chameleon, but can he play a… crocodile? That's the first question that popped into our mind with the news – via Deadline –– that the Oscar winner, best known for such serious fare as Before Night Falls, No Country for Old Men, Skyfall, and the upcoming Dune, will star in a big-screen, live-action hybrid, musical adaptation of Bernard Waber's bestselling children's book, Lyle, Lyle Crocodile. Will Speck and Josh Gordon are reportedly co-directing, with Benj Pasek and Justin Paul, the duo whose credits include Dear Evan Hansen, La La Land, and The Greatest Showman, writing the music.
But the story here is Bardem. He's only dabbled in family fare, playing Captain Salazar, the baddie in Pirates of the Caribbean: Dead Men Tell No Tales, and signing on to portray King Triton in a live-action version of The Little Mermaid. Our guess is that he's adding such credits to his resume so that his kids, Leo and Luna, who are 10 years old and younger, can actually see something their dad is in. Mom, of course, is actress Penelope Cruz.What's not clear is who or what Bardem will play in Lyle, Lyle Crocodile. The first book in the series was actually The House on East 88th Street. Lyle lives there – it's a New York City Victorian — with the Primm family. He's happy and enjoys interacting with the local kids, at least until grumpy Mr. Grumps gets Lyle exiled to a zoo. Soon enough, Lyle's old performing partner, Signor Valenti, helps free Lyle, setting the stage for the crocodile to become a hero and perhaps win over Mr. Grumps. We're assuming that the movie's version of Lyle will be created with CG and betting that Bardem isn't voicing Lyle. So, that means Bardem is likely going to star as either Signor Valenti or Mr. Grumps. And since the Spanish actor has already tackled his share of villains, our money is on him playing Signor Valenti.
Then again, maybe he's just playing Lyle, Lyle the Crocodile!
Interestingly, Lyle, Lyle Crocodile won't be the first time the material has received the musical treatment. HBO produced a 25-minute animated version – Lyle, Lyle Crocodile: The Musical — that premiered in 1987 and featured Tony Randall(!!) as the narrator and voice of Signor Valenti. It's currently available on HBO Max. As for the new film, according to Deadline, Sony will release it on July 22, 2022.