5 Amazing Facts About James Bond's Most Famous Car — the Aston Martin DB5
"Ejector seat! You must be joking!"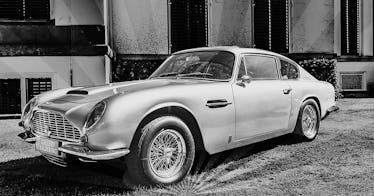 GETTY
Since 1964, the pun-dropping secret-agent James Bond has been famously associated with one sleek silver car; the Aston Martin DB5. This is the car with machine guys hidden behind its blinkers, sported a bulletproof shield, an oil slick to shake-off pursuers, special wheel blades, and yes, that famous ejector seat. Beginning with Goldfinger, Bond's most famous ride has been this beautiful car, which is also the case in the final Daniel Craig 007 flick; No Time To Die. But what do you really know about this car? How many movies did Bond drive it in? Why is it so famous? Which Bonds didn't drive it?
Out now from publisher Hero Collector is a stunningly beautiful hardcover book called James Bond's Aston Martin DB5. This oversized coffee table book is wonderful just to leaf through and admire, but the real treat is the detailed story of how this car became a character all its own. Here are just five of the most mind-blowing details about James Bond's Aston Martin DB5.
The first Goldfinger car wasn't a true DB5
In Ian Fleming's 1959 novel Goldfinger Bond switches from driving a Bentley to an Aston Martin DB Mark III. Bond picks this car over a Jaguar, which is sort of amazing because it's kind of hard to imagine Sean Connery in a Jag in Goldfinger. Anyway. By the time the film version was getting made, the producers wanted the newest Aston Martin, but the car manufacturer was a little hesitant, partially because so many modifications were going to be made to the inside of the car. But, the "stunt car" that was heavily modified to accommodate all of Bond's gadgets was actually a prototype Series 5 DB4. In the new book, it's made clear that both cars "have an external appearance of a DB5." Basically, Aston Martin was less worried bout EON productions messing up their prototype. That said, two cars do appear in the film, the heavily modified stunt car (actually a DB4) and a regular DB5. Here's the tell: license plate number, "BMT 216A" has slightly more rounded letters on the "regular" car. And on the stunt car, those letters look a little boxier.
Connery's Aston Martin DB 5 was an international star
When Goldfinger debuted in New York City on December 21, 1964, Sean Connery was not at the premiere. But his car was. Because the "stunt car" actually did have working modifications — including that bulletproof shield — it became something a celebrity itself. Throughout the '60s Bond films in which the Aston Martin D5 appears, the Aston Martin went on a global tour. The funny thing about this is that the most screentime the car had in the 1960s was easily in just one film Goldfinger. In Thunderball, the car really only features in the teaser of the movie. Even so, in the 1.5 Connery films it was featured in after 1965, the car was forever associated with James Bond.
Roger Moore Drove an Aston Martin DB5 — But Not as Bond!
After Thunderball, James Bond did not drive the Aston Martin DB5 on-screen until 1995 in the first Pierce Brosnan Bond film, GoldenEye. Really! This means that neither Roger Moore nor Timothy Dalton ever got behind the wheel of the famous Bond vehicle across a staggering nine films. That said, Roger Moore appeared in a 1964 episode of The Saint called "The Noble Sportsman," which did feature the exact same DB5, complete with the same registry number, "BMT 216A." This Saint episode was aired well before Goldfinger hit theaters, but the weird wrinkle is that Roger Moore (not yet Bond, in 1964, obviously) didn't drive the DB5 in this episode.
So when did Roger Moore drive an Aston Martin DB5? As James Bond he never did. But in the 1981 movie The Cannonball Run, Roger Moore plays a Bond-spoof character, Seymour Goldfarb, Jr. and he does drive an Aston Martin DB5. Funnily enough, Cannonball Run came out during Moore's tenure as Bond. For Your Eyes Only — one of Moore's grittier Bond films — also came out in 1981, the same year as Cannonball Run.
Other Bonds, other Aston Martins
Although Daniel Craig is the James Bond actor to drive the DB5 the most out of any others, he doesn't drive a DB5 in every single film. Although Bond drives a DB5 in Casino Royale, Skyfall, Spectre, and No Time To Die, he doesn't drive one in The Quantum of Solace. However, Daniel Craig, Timothy Dalton, and Pierce Brosnan all drove other models of Aston Martins throughout their tenure. George Lazenby drove an Aston Martin DBS for On Her Majesty's Secret Service, which looked very similar to the DB5 for casual fans. Funnily enough, the director used the engine sound of the DB5 in post-production, which means Lazenby's car has the sound of the DB5, even though it's not a DB5. Timothy Dalton drove an Aston Martin V8 Volante in 1986's The Living Daylights, which Daniel Craig also drives in No Time To Die. In 2002's Die Another Day, Pierce Brosnan drove a V12 Vanquish, which, funnily enough, was an invisible James Bond car. And in both Casino Royle and Quantum of Solace, Daniel Craig got a DBS V12.
The only Aston Martin model that was built exclusively for a Bond film was the DB10, which is seen in Spectre. There are only 10 of these cars in existence. Period. So, the rarest Bond Aston Martin is actually the one that only appeared in one film.
No Time to Die features TEN different DB5s All "Playing" One Car
As seen in the trailers for No Time to Die, Bond is back in his Aston Martin DB5, and hidden guns are, again, part of the car's arsenal. According to the new book, in just one scene, "the production team used two classic DB5s and eight stunt replicas." Notably, Bond's new miniguns come out of the headlights, and not the blinkers. The new Bond movie also features Bond actually using the car's ability to change its registration plates. In Goldfinger, this ability was demonstrated by Q, but Bond never actually used it. In No Time To Die, he finally does.
No Time To Die is out in theaters in the US on October 8, 2021.
This article was originally published on