How To Watch the 2021 Macy's Thanksgiving Parade
This is the way to make a comeback.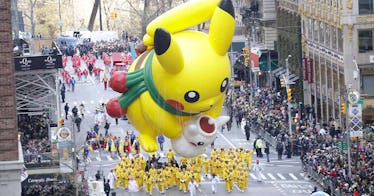 Shutterstock
One Thanksgiving Day tradition is coming back in a big way. After getting canceled during the COVID-19 pandemic in 2020, the 95th Annual Macy's Thanksgiving Day parade is happening in 2021. But where can you watch it? And which new balloons should you and your family look out for? Here's what to know.
How to watch the 2021 Macy's Thanksgiving Day Parade
On Thanksgiving Day, Thursday, November 25, you watch the parade on NBC from 9 am to 12 pm, local time. This means the airtime will adjust depending on your timezone. You don't have to wake up at 6 am if you live on the west coast. On a regular TV, this will be on your local NBC station.
It will also stream for free on the NBC streaming service Peacock. Update: Watching the parade on Peacock requires a premium membership! Here's a free version via YouTube
What's the new Macy's Thanksgiving Balloon?
In addition to old favorites like Spider-Man and Snoopy, this year will also feature a brand-new balloon in the shape of….Baby Yoda! That's right, the 2021 parade will celebrate Grogu from The Mandalorian in the form of his own huge balloon. Ironically, Grogu is not expected to make an appearance in the new Mandalorian spin-off The Book of Boba Fett, but then again, you never know.
This article was originally published on