How to Watch ABC's New 20/20 John Lennon Special
This looks pretty great. Here's how to catch it on streaming.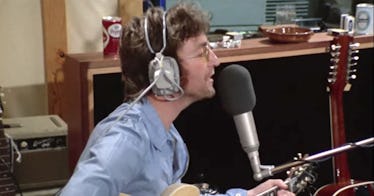 YouTube/JohnLennon
"While there's life, there's hope."
John Lennon made that heartbreakingly optimistic comment during an interview with radio reporters on December 8, 1980, just hours before he was gunned down that same day in front of the apartment building where he lived in New York City. Viewers will hear that interview as part of 20/20's 43rd season premiere, "John Lennon: His Life, Legacy, Last Days," scheduled for Friday, October 16 from 9-11 p.m. EST on ABC, which is a week after what would have been his 80th birthday and a bit shy of two months before the 40th anniversary of his shocking assassination. Beyond the interview, "John Lennon: His Life, Legacy, Last Days" will also feature rarely seen footage from the ABC News archives and conversations with key figures in the former Beatle's life. Among them are Jack Douglas, who produced the final Lennon-Yoko Ono albums, Double Fantasy and Milk and Honey; Bob Gruen, who took the iconic photo of Lennon in a New York City tee-shirt; and Elliot Mintz, a journalist-turned-publicist who has long served as the Lennon estate and Ono's spokesperson.As noted, "John Lennon: His Life, Legacy, Last Days" will air on ABC. For streaming-only viewers, the two-hour special can also be accessed on Hulu, YouTube, Google Play, and ABC.com.
This means, for most people, your best bet is Hulu. Here's how to get Hulu in a Disney+ bundle if you don't already have it.
This article was originally published on