How to Stream the New Joel Coen 'Tragedy of Macbeth'
Can't wait for this? Here's what to do.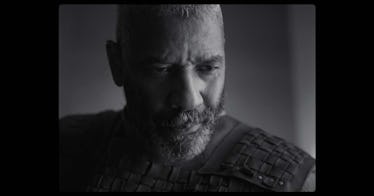 A24
There are dysfunctional families and then there are the characters of Macbeth in The Scottish Play. Macbeth, the Thane of Glamis, internalizes the prophecy of a trio of witches and sets his sights on toppling King Duncan and ascending to the throne of Scotland. Even more ambitious and ruthless is his wife, Lady Macbeth, who goads and manipulates the initially reluctant Macbeth to do the evil deed. Then there are the witches, a trio of crone siblings who bicker and conjure. And let's not forget Malcolm, the king's son and heir, who ultimately returns to Scotland to seek vengeance against Macbeth and restore order. But how can you stream the new Joel Coen version, starring Denzel Washington and Frances McDormand? Here are the details.
What's the deal with the new Macbeth?
Macbeth has been the subject of countless stage productions, television presentations, and film adaptations. The latest version of Shakespeare's masterwork is The Tragedy of Macbeth, a movie directed by Joel Coen, his first without brother and longtime collaborator, Ethan Coen, with whom he'd worked on Raising Arizona, Fargo, The Big Lebowski, No Country for Old Men, True Grit, and The Ballad of Buster Scruggs, among others. Denzel Washington stars as Macbeth, joined by Frances McDormand (Joel's wife and co-producer on the film) as Lady Macbeth, Brendan Gleeson as Duncan, Corey Hawkins as MacDuff, Moses Ingram as Lady MacDuff, and Harry Melling (Harry Potter's Dudley Dursley!) as Malcolm.
The film —shot in glorious black and white, with evocative sets and a lean, pared-down script (adapted by Coen) -— wowed critics at the New York Film Festival and looks likely to be a major Oscar contender.
How can you stream The Tragedy of Macbeth?
Macbeth is actually both an A24 release and an Apple Original Film, a situation confusing to some moviegoers. A24, the popular purveyor of independent films, currently has the movie playing in limited theatrical release.
Then, starting on January 14, Macbeth will stream on Apple TV+. Don't have Apple TV+? You can try it out with a free 7-day trial, after which it will cost $4.99 a month.
This article was originally published on