How to Choose a Birthday Party Venue Your Kids Will Love
Finding a birthday party venue that kids like and parents don't hate is a delicate dance.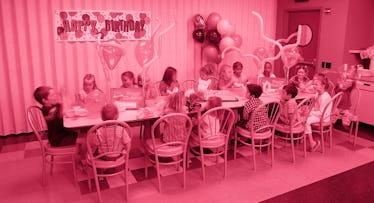 Wikimedia Commons
When you have toddlers or babies, birthdays are easy: You simply throw a party for the parents. But when they graduate from toddler-hood, the tides turn and the party and its requisite birthday activities should focus squarely on the kids. This doesn't mean it has to suck for the parents. You have to make compromises and then everyone will be happy (or at least no one will be sad). Here's how to find that balance when choosing a venue.
RELATED: The 7 Worst Birthday Party Venues on the Planet
1. Focus on your kid's personality.
You're shooting for stoked kids here, not dazzling the PTA constituency. "If they love to work with their hands, choose a paint-and-sip venue or a ceramics class. If your child loves singing, consider a karaoke venue that will open a private room during business hours," says Robin Oloyede, CMP, co-owner PLUSH Events and Design. "If they love kicking balls, consider a soccer venue that can allow interaction with an instructor."
2. Look out for hidden costs.
"This one may seem obvious, but you want to definitely consider the cost. Some venues have 'hidden' costs that you might not think to ask about, so don't assume that what you're quoted includes everything," notes Michelle Puckett, Custom Party Planner, Parties by Puckett. "Does the venue offer entertainment or a host to help you with your party? Make sure to ask if these costs are included to save an unwanted surprise!"
3. Choose the time-frame wisely.
A cranky kid makes for a crappy party, for everyone. Before locking in rental space or your slot on the venue's schedule, plot a mental map of your kid's mood over the course of a day. "Are they relatively shy or want to have individual time during the afternoon? Then they may not be interested in playing with a bunch of friends or participating in group games at that time," says Jaime Engebretson, Owner and Executive Event Planner, J'aime Events. "So plan the party time for a time in the day when your child is most active and then seek out a venue that has availability for that timeframe."
4. You probably want to go with the all-inclusive choice.
Determine how much of the heavy-lifting you want to do upfront. The all-inclusive package has the venue ordering the food, hosting the activity, providing cake and goodie bags, and last, but most importantly, handling all the cleanup. "If you have several children with different schedules sometimes the added expense of an all-inclusive venue is well worth the time preparation savings," says Helen Holden, founder of birthday party planning resource CountingCandles.com. "On the other hand, perhaps you prefer to make your own goodie bags, prepare and bring your own food, provide an activity with the help of family, take your time and party for several hours, and you don't mind cleaning up. In this case, the best birthday venue might just be your own backyard or a local park."
5. Be flexible on the party's theme.
Considering any themes in advance can help you narrow down your venues and save you cash. "Can the venue add to [a theme you have in mind] or will you have to provide additional décor to make the theme stick? For example, if you are doing a golf themed birthday, look to have it at a golf clubhouse. It will have the greens and the golf balls already as part of the landscape design so you won't need as much décor," says Engebretson. Did you really want to run out and buy yards of fake astroturf and sweep the internet high-and-low for golf-themed balloons? "Same with a zoo theme — have it at a room rental at the local zoo that gives passes to visit the animals."
6. Make sure the location is convenient for everyone.
The easiest way to make other adults happy is to make the party convenient and quick. For the latter, just keep it under two hours. Convenience is a bit trickier: "You might have what you think is the perfect venue, but you should ask yourself, 'Is it easy to find and get to?'" advises Puckett. "Parents are busy and have limited time, so you want to be mindful of that and make sure that the location is convenient for them, not just you. The last thing you want is a flustered [parent] showing up late with your child's best friend."
7. And try to keep it close to home, too.
"This makes transporting decorations to and presents from the venue much less stressful," says Oloyede. "It also makes a quick drive home to grab forgotten [items] a simple task instead of a last-minute shopping spree."
This article was originally published on