Holy Bat-Scares! Robert Pattinson 'Batman' Leak Says "It's a Horror Movie"
The newest Batman is going to be scary AF.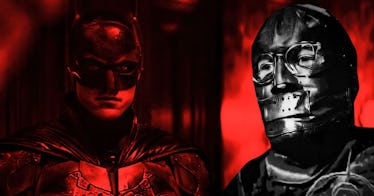 Warner Bros. Pictures
Don't take your kids to the next big Batman movie. According to an anonymous leaker — who claims to have seen the new film — the Robert Pattinson-led upcoming film The Batman is going to be scary AF.
We've known for awhile that director Matt Reeves was planning on taking a hardcore approach to the legend of the Dark Knight, but now rumors are swirling that if you thought the Christopher Nolan movies were serious, you haven't seen anything yet. According to a Twitter leak, from someone who claims they've talked to someone else who was in a test-screening, "The Batman movie is a horror movie. Very graphic, very dark, very scary. Paul Dano is f*cking crazy, so fucking scary I loved every second."
This person also says that their source claims they saw a 3-hour cut of the movie, which feels pretty long. Even Dune isn't going to be 3-hours, and it's freaking Dune.
Also, to be clear, Paul Dano is playing the Riddler, which hasn't really been a terrifying character outside the pages of the comic books, like ever. While these rumors should probably be taken with a grain of bat-salt, the idea that this Batman will be dark and messed-up seems likely to be true, generally. Just take a look at that trailer!
The Batman is scheduled to hit theaters on March 4, 2022.